I'll be the first to admit it. Other than a four year hiatus to the Sierras during college, I don't visit the mountains nearly enough. If you live near them, then you already know (and probably take for granted) their majesty. When GMC invited me to attend the 2018 GoPro Mountain Games in Vail, Colorado – I didn't even need to think twice. The drive into Vail from Denver is an easy, albeit vertical commute. I was fortunate to have access to a 2018 GMC Sierra Denali for the weekend, which made easy work of the twists and turns – and landed me safely for what I believe is a bucket list trip for anyone looking to experience a long weekend of mountain sports and lifestyle.
Here are 10 Reasons Why You Need To Add The GoPro Mountain Games To Your Bucket List:
1. Vail, Colorado
Let's start off with the host town: Vail, Colorado. Vail isn't an old city (established in the mid-1960s), but it's been built with a style and sophistication reminiscent of some of Europe's oldest ski villages. The inner core of Vail Village is composed of a walking path through town, and the sight lines expose the beautiful Rocky Mountains in almost every direction you look. To say it's quaint doesn't do it justice. To be honest, the village alone is probably a stop that you should add to your bucket list.

2. Family Friendly Event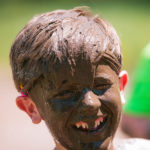 As soon as I arrived back home from the GoPro Mountain Games, I started kicking myself that I hadn't brought my family along. In my head, the games were going to be full of "radical" mountain athletes – and spectators enjoying their Rocky Mountain "High". While the atmosphere was very cool, my children would've been right at home – as it wasn't unusual to see kids ranging from infant to teenagers enjoying themselves and their surroundings.

3. Dogs Everywhere!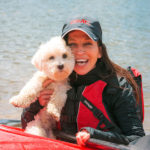 I honestly had to Google how many households in the United States own a dog, because it seemed like EVERYONE attending the Mountain Games had at least one. In addition to the dogs casually hanging out, there was a second canine-contingent…the competitors. I was pleasantly surprised at how much I enjoyed watching the dogs compete in their own version of the games. One of my highlights of the weekend was definitely watching the jumping competitions, where dogs went head-to-head to jump and race in a man-made pool.

4. Outdoor Brands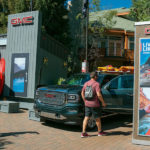 I love gear. Like, really love it. The Mountain Games had multiple opportunities to interact with not only gear, but with the folks behind the brands as well. Some of my favorite interactions came from the folks at both GMC and GoPro who were willing to go above and beyond to share their knowledge with anyone who wanted it. The brand interactions definitely didn't stop there, with brands that ranged from LL Bean to Tentsile and Bosch E-Bikes all providing experiential demos of their latest and greatest.

5. World Class Athletes
By no means do I consider myself a "mountain athlete". Sure, I enjoy being active outside – but watching the best of the best is so inspiring. At one point, I was watching the rock climbing and bouldering competition, as the announcer came across the PA: "You're witnessing the top five competitors in the world…on the wall…at the same time!" To see this level of talent, even competing in sports I was unfamiliar with, made for a totally memorable experience.

6. Nightlife & Music
If you weren't already exhausted from full days of milling around Vail Village…watching the games…eating and drinking, the nightlife that surrounds the games is something special on its own. Each night presents multiple opportunities to watch live concerts and attend silent discos. If concerts and dancing aren't your thing, I found that each different brand and athletic contingent had a hold on the various bars and restaurants around town. The opportunity to rub elbows with them is something that shouldn't be overlooked.

7. Mountain Lifestyle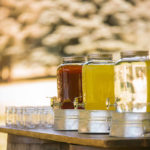 Coming from "fly over country", it's refreshing to experience not only mountain sports, but mountain lifestyle as well. The tone is laid back, the beers start flowing at noon, and although you don't have to worry about automobile traffic – keep an eye out for long boarders and one-wheels everywhere. It's almost like time stops. When I lived in the Sierras, we lived on something called "Tahoe Time" – which was give or take a 45 minute window. I'm not sure if there's such a thing as "Vail Time", but there should be.

8. Up Close & Personal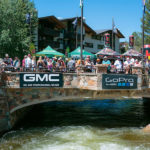 It feels like Vail was built to strictly host an event of this caliber. When I was first invited, I had visions of being bussed from venue to venue to watch the games. What I experienced was much different. Just about all of the games happen in town. Not high in the mountains, or somewhere down the road…but rather a 5-minute walk from my hotel room. There's a bridge with a rapids beneath it directly in the center of the village where kayakers and white water rafters competed. The climbing wall was erected at the base of the mountain, and bike trails were everywhere. I've never experienced a more intimate set of games.

9. Mountains Galore!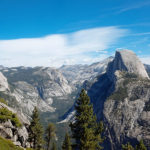 The Rocky Mountains are not only picturesque, but legendary. Vail is situated a scenic 2-hour drive from the Denver airport – placing you directly in the middle of them. The opportunities to sneak away for a few hours to dip in a mountain lake or hike through a valley are abundant. If you spend most of your life at sea-level, like I do – this is the perfect summer getaway to take in some high altitudes and beautiful scenery.

10. Beautiful Weather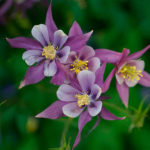 I wasn't sure what to pack for my trip, considering that snow is still sitting at higher elevation. Even the base of Vail Resort had snow sitting on the ground. However, the daytime temperatures hovered around 80ºF and I was perfectly comfortable at night wearing shorts and a hoodie. A lot of people think of Vail as a winter destination, but the summer weather is something to be experienced for yourself!