19 Fun Camping Meals For Kids That Will Have Them Begging For More
Camping with kids is hard enough. When you throw cooking into the mix it can make it even more challenging because you don't have all of the conveniences of home. Our advice is to get a Rubbermaid tub (ye ol' camp box), buy some gear that will last, and fill up the tub so it's always ready to go. You don't have to spend a crazy amount of money filling up your camp box either. If you're just getting started, or need to upgrade a few items, you'll be happy with the gear below.
Get a good propane stove. It's hard to go wrong with a basic Coleman two-burner propane stove. For 40 bucks you'll have something that will last until your kids are out camping on their own.
It's nice to have dishes in the camp box. Yes, paper plates work great. The problem is that you end up doubling them up so they're not flimsy (at least we do) and it just contributes to more waste. Stansport makes a great enamel camping tableware set for 14 bucks. Think about it. That's about how much you spend on paper plates, plastic silverware and red solo cups from one trip alone.
You need a decent water container. You can wash your dishes in any old plastic tray laying around the house, but you DO need something clean and safe for your drinking/washing water. If you have room in your rig, this 7 gallon container from Reliance is great. If you're in a smaller car and you're tight on space, Coghlans makes a collapsible 5-gallon container that will work just fine. Just fill it up when you get to the camp site. These basics will give you everything you need to setup a simple and effective camp kitchen.
Now onto 19 Fun Camping Meals For Kids That Will Have Them Begging For More!
1. Potato Boats
Ham. Bacon. Cheese. Potatoes. Need we say more?
2. Brown Bears
Cooked dough on a stick, sprinkled in cinnamon. MMMM MMM Good.
3. Eggs & Bacon In A Paper Bag

RealFamilyCamping.Blogspot.com
The best tasting egg you'll ever have not cooked in a pan. Plus there is bacon.
4. Pie Iron Pizza
All kids (and adults) love pizza. They'll love it even more in a pie iron!
5. Lumberjack Breakfast
A meal made for a lumberjack in an easy to make tin foil packet.
6. Raspberry Lemon Pie Iron Dessert
Ooey Gooey Raspberry, Lemon, Marsmallow goodness.
7. Grilled Picnic Taco Nachos
Nachos are messy, therefore kids love them.
8. Campfire Blueberry Orange Muffins
Making a muffin in an orange. Every kid is going to want to try this.
9. Foot Long Double Hot Dog
Two is always better than one. Especially when it comes to food!
10. Homemade Sun Tea
Get the kids involved making this refreshing camping beverage
11. Gooey Chocolate Skillet Cake With Ice Cream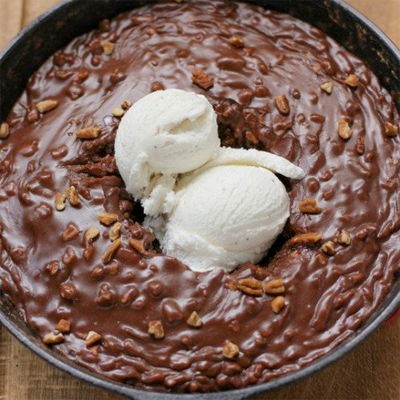 ContentInACottage.Blogspot.com
A skillet full of chocolate and ice cream. You know you want to make this.
12. Fry Bread
It can be sweet or savory. We love it as a base for tacos!
13. Impossible Quiche (It is possible)
A gourmet meal, that's actually easy to make right at the campsite.
14. Grilled Waffle Treats
A breakfast staple, grilled right at your campsite.
15. Grilled Mini Pizzas
Kids love pizza, especially mini pizzas that they can make themselves.
16. Ultimate Rolo S'mores
Adding melted caramel to a S'more. Genius.
17. Super Simple Fish Tacos
Kids will love this so much they won't even know they are eating healthy!
18. Spider Hot Dogs
Put a fun twist on a camping staple. Plus the kids get to play with their food!
19. Walking Tacos

The-Girl-Who-Ate-Everything.com
An easy camping meal that the kids can create themselves!