Since our January issue of 50 Campfires is all about getting out and trying new things in the year ahead, the craft brews in cans we've selected follow the same theme. We encourage you to try something a little wild in 2016 … like these 3 great craft beers with crazy names.
You know what? When it comes to crazy names, there's no shortage from which to choose.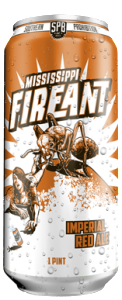 Mississippi Fire Ant
Brewery: Southern Prohibition Brewing Company
Style: American Amber Red Ale
ABV: 8.00 %
Tasting Notes: As diehard campers, we can't think of a much more UN-pleasant experience than stepping on a fire ant mound! Those sons-of-bugs are mean and nasty!
However, we are happy to report that's not the experience we had with Mississippi Fire Ant Imperial Red Ale from the Southern Prohibition Brewing Company in Hattiesburg, Mississippi. In fact, just the opposite, we found it to be a friendly, inviting brew that you'd want to hang out with … as often as possible.
The 16-ounce cans are campfire friendly. Keep them on ice, and we can almost guarantee you and your guests will be happy campers all night … or all day … or … what the hey … both! We'd drink Mississippi Fire Ant with about anything you turn out on the grill north or south of the Mason/Dixon Line.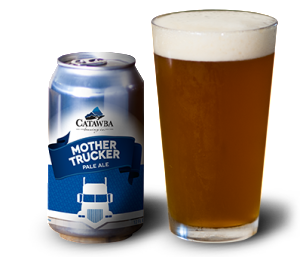 Mother Trucker
Brewery: Catawba Brewing Company
Style: American Pale Ale
ABV: 5%
Tasting Notes: If Crayola made a crayon that was going to be called "beer," they could do a lot worse than make it the color that Mother Trucker pours. This is middle of the road … make that interstate … copper colored beer. The color you expect beer to be. And it has a nice, white frothy head that lasts a reasonable time and leaves reasonable lacing as it disappears.
Mother Trucker has full-flavor, but you can drink some if it. Around the campfire, we call that "having a few" as we suspect the transportation magnates for whom it's named do, too. In fashionable beer circles, that's now called "sessionable," though any reasonable spell-checker refuses to accept that word.
The flavor offers cross-country diversity, too. You'll probably find pine, mushrooms, and citrus to your liking, all leading to a good malty, and finally hoppy finish.
Mother Trucker was made for enjoying with hotdogs, chips, and beef jerky, all of which are nearly omnipresent around our campfires.
If you want to try Mother Trucker yourself, it may require a road trip. It's only found, so far, in North Carolina where Catawba Brewing Company is stationed.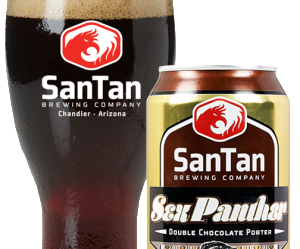 Sex Panther
Brewery: SanTan Brewing Company
Style: Double Chocolate Porter
ABV: 6.9%
Tasting Notes: Don't go in expecting a Hershey's chocolate bar in a can, and you'll enjoy this relatively light, well-balanced porter. The "double" chocolate designation comes from the use of Colonial Rosewood Cocoa as well as chocolate malt, but the result is not overpowering – perhaps not enough if you're looking for "chocolate" beer.
The head is ample – a couple of fingers on a proper pour, and it has a nice tan appearance as you'd expect from a porter.
If you guessed this one goes well with dessert, you're right. It pairs perfectly with sweet treats, including our favorite s'mores. However, it's great pre-entrée, too, as it also goes well with smoked meats and charcuterie.
SanTan Brewing Company is in Chandler, Arizona and this provocatively-named beer is available seasonally in 12-ounce cans in Arizona and surrounding states. Good news is – the season is right now! C'mon, you know you need to add Sex Panther to your "life list."