5 Best External Batteries Under $100
If you're going to be out of the house for more than 24 hours, chances are you're going to need an external power supply for your phone battery. This is doubly important if you're using your phone's GPS, or if you're posting a lot of camping pictures to social media.
To help you make the best decision possible, we've put together a list of the 5 best external batteries under $100 on the market. Whether you're looking for big and powerful or small and portable, we've got you covered. Let's get started!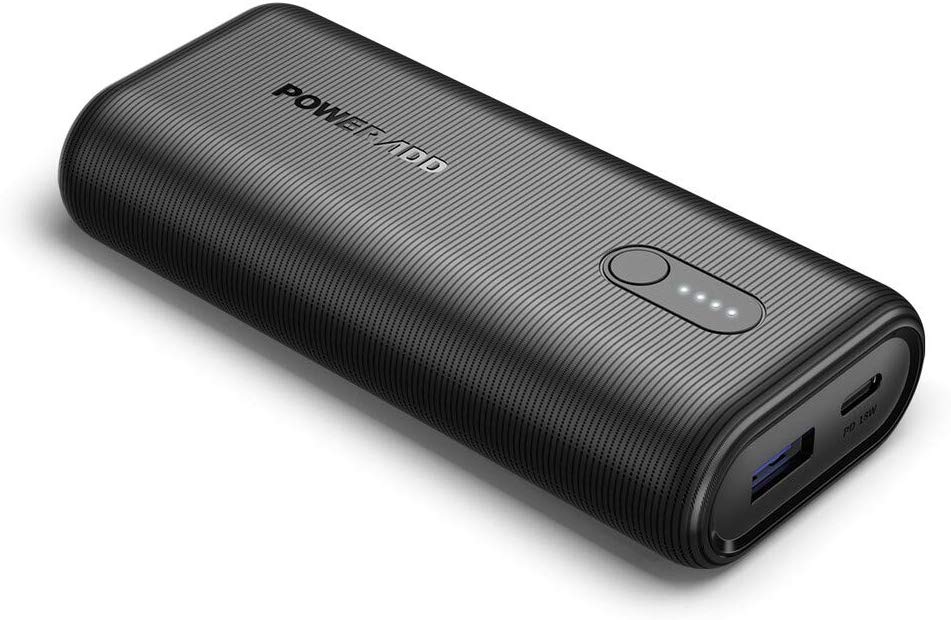 The Poweradd EnergyCell II is compact and lightweight, measuring less than 6 inches in weight and tipping the scales at only 5.6 ounces. It's a truly pocket-sized option, which makes it convenient for any outing where weight is a significant concern.
That said, the power supply is slightly limited, at only 10,000mAh. This is a necessary trade-off, since more capacity requires more size and weight. And 10,000mAh is nothing to sneeze at. It's good for about 3 ½ charges of the iPhone X's 2,716mAh battery, and for 2 ½ charges of the Samsung Galaxy S11's 4,000mAh battery.
The EnergyCell II features not one, but two USB-C charging ports, and supports charging at up to 18 watts. This is fast enough to charge an iPhone in about an hour. Be careful about getting it wet, though; the case is not waterproof, so you'll want to keep it inside your tent or backpack.
$25.98
The Rleron is a heavy power bank that weighs nearly a pound. It's compact for the weight, though, measuring about 6 ½ inches in length and 3 ¼ inches in width. At just over ½ an inch thick, it's about the size of a cell phone.
The front of the case features an LCD display, which shows you the current charge status of the battery. On the back, three bright LED bulbs combine to function as a flashlight. It's not incredibly bright, about equivalent to the light on an iPhone, but it's still good enough for rummaging around your tent in the middle of the night.
The overall capacity of the Rleron is 25,000mAh, enough for several charges on any popular cell phone. It will charge up to three devices at once, so it's a great choice if you're out camping with the whole family. The large capacity makes it one the best external batteries under $100 that you'll find.
$27.99
RAVPower is one of the biggest names in the battery business, so it was no surprise to find that they manufacture some of the best power supplies available. Their 10,000mAh Portable Charger is one of these selections, and it's sized for your pockets at 5 inches in length.
As with the Poweradd battery pack, you're not looking at a huge amount of power. Still, it's enough to get you through a weekend, which is going to be enough for most people. And at 12 ounces in weight, you're getting a sturdy design that won't add too much bulk to your pack.
This external battery can be fully charged in about 6 hours with a USB-C charger. And it can simultaneously charge two other devices via a pair of USB ports.
$25.99
This RAVPower charger is an upgraded version of the 10,000mAh charger we just looked at. In addition to a pair of USB-C ports, RAVPower added a standard USB port, as well as a PD port and an iSmart port. If you need a power supply for topping off multiple Apple devices, it's hard to beat this model.
You also get a battery meter, a simple LCD screen that displays your percentage remaining. And this charger supports QC 3.0 technology that will fully charge an iPhone in a little over an hour. All in all, it's a significant upgrade over RAVPower's smaller 10,000mAh external battery. That said, it weighs nearly a full pound, so it may be more weight than you really want to add to your kit.
$49.99
The Xihihoo Solar Power Bank is big and bulky, weighing almost 1 ½ pounds, but the weight is well justified. It has a hybrid design, with a built-in solar panel on the front of the unit. Now, it's important to keep this in perspective. A cell phone-sized solar panel isn't going to charge anything quickly and will take all day to halfway charge an iPhone. It's more of an emergency feature than a go-to option.
That said, you won't be stuck relying on the solar panel alone. The Xihihoo's internal battery carries a 26,800mAh charge, which is more than sufficient for the whole family for a weekend. And the case itself was purpose-built for the outdoors. Not only is it IPX7-rated for water resistance, but the bright LED on the back is convenient to have at hand.
$42.99
Since we're talking about charging phones, here are the 5 Most Rugged Phone Cases money can buy.