Winter may not officially be here – the solstice is on Dec. 21 – but the slopes are open. That means it's time to plan your next ski trip.
There are resorts all across North America, and each one of them has its own character — not to mention acreage, snowfall, elevation and amenities — so your choices are far from limited. However, if you want to focus on one area of the country to get some of the best powder you can just cruise all around Colorado.
Interestingly, according to the National Ski Areas Association (NSAA), New York has the most ski resorts, with 52. It is followed by Michigan with 39 and Wisconsin at 33. Colorado is actually tied with Wisconsin with 32 ski resorts.
Vail
Located in what's arguably the ski capital of the U.S., Vail Ski Resort demands a visit. One lift ticket gives you access to all of its lifts and 193 trails, so ride to the summit and enjoy.
Once there, there resort has great terrain options. It also has an excellent ski school for beginners. The two main base areas are Vail Village and Lionshead.
The Vail Village is located at the base of Gondola One. It is also the original base for the resort and where you can visit its iconic covered bridge. Lionshead Village is located just west of Vail Village. It is serviced by its own gondola.
As for travel, Vail is about 100 miles from Denver International Airport. If you can get a flight into Eagle County Regional Airport (EGE) it is only about 30 miles.
Telluride
Telluride offers a host of choices no matter the season, including nordic skiing, summer activities and three terrain parks. Plus, a four-mile-long run that's worth the trip alone.
This is perhaps one of the best three places to experience on the slopes in North America. It was originally dubbed "To-Hell-You-Ride" back when it was a mining town. Telluride is obviously more marketable. The views of the San Juan Mountains are breathtaking and the sheer volume of opportunity is close to unmatched. Telluride has more than 2,000 acres of lift-accessible terrain to challenge skiers of all levels. It has 19 lifts — though there are still lines — for its 148 runs.
The resort is just over 300 miles southwest of Denver but you can cut that down to a 65 mile drive if you fly into Montrose Regional (MTG). You can also book a connector to Telluride Regional Airport (TEX) on a couple airlines operating out of Denver.
Breckenridge
Breck is among the 25 largest ski resorts in the U.S. It also receives an average 374 inches of annual snowfall across 2,358 skiable acres. Keep in mind that there's a high base elevation of 9,600 feet, so be careful of altitude sickness or dehydration while you're on the slopes. The summit is a high 13,000 feet.
This is one of the busiest spots in the state because of its location. It is only about 100 miles west of the Denver International Airport which makes for less than a two-hour drive to get into town. The ski resort boast four award-winning terrain parks as well as a famed 22-foot superpipe.
The area was very carefully crafted and has almost as many boutique shops in its downtown area as it does trails. With it being one of the more affordable spots, it is a great opportunity to splurge for a chalet right on a run and ski or board out each morning.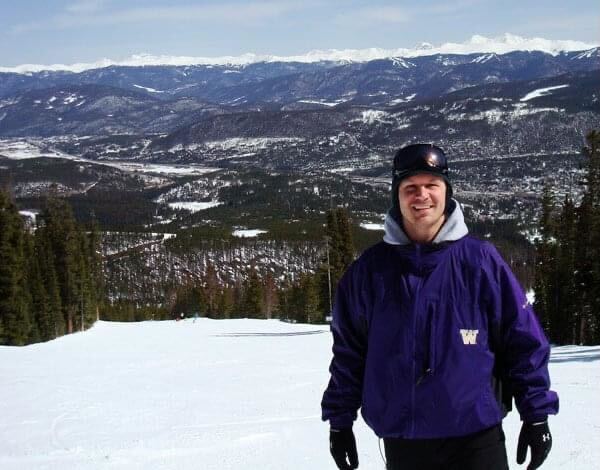 Aspen Snowmass
Snowmass is in Aspen, and it is a massive ski resort. It is the ninth largest in the U.S., in fact. Some could argue it is actually four resorts in one. You could argue it because it is marketed that way. But that is even better for you. Its highest vertical point is over 4,400 feet high; its longest downhill run is 5.3 miles. It could take you 21 minutes to ski down.
Just about half of the resort's trails are intermediate level, so beginners might want to take some ski lessons first. Fair warning.
This resort is one of the more remote, too. Aspen is about four hours from Denver. However, since you are already dropping a good price to ski there, you can fly directly into the Aspen/Pitkin County Airport (ASE). That airport is about three miles from downtown and it runs shuttles to the resorts.
Keystone
Like many other Colorado ski resorts, Keystone is known for its overall snow quality. It receives 230 inches of snowfall annually, on average. You're sure to have the time of your life skiing down any of Keystone's 3,148 acres.
It is also — unlike Snowmass — one of the most family/beginner-friendly spots in the state. If you plan to hit this spot, take advantage of Keystone's Kidtopia. It is a free program designed just for kids. And, similar to Breck, it is also a close ride. Keystone is about 100 miles from the Denver International Airport, which will limit the kids anxiousness to get there.
Keystone has three, very distinct peaks with almost 130 runs that can challenge all levels. It is one of the most complete parks for the money.
Limiting it to five in Colorado is tough to do because there is so much great skiing.
For some quick hits, Beaver Creek Resort has received numerous awards from the Ski Mag Resort Guide. The base elevation at this beautiful resort is approximately 8,100 feet.
Steamboat rivals Vail as one of Colorado's most popular ski resorts, earning a number of accolades from the SKI Mag Resort Guide. It boasts nearly 3,000 acres of skiable land and 165 trails. However, you might run into long lines on crowded days.
Winter Park is a true . . . winter park for the ski aficionado. More than half of its 153 trails are designed for the advanced skier. If you're feeling really adventurous, Winter Park allows plenty of off-piste skiing from its eight terrain parks.
Lastly, Copper Mountain receives a relatively high amount of snowfall annually and offers more than 142 trails and 2,465 acres of skiable land.
Vail featured photo by Glade Optics on Unsplash