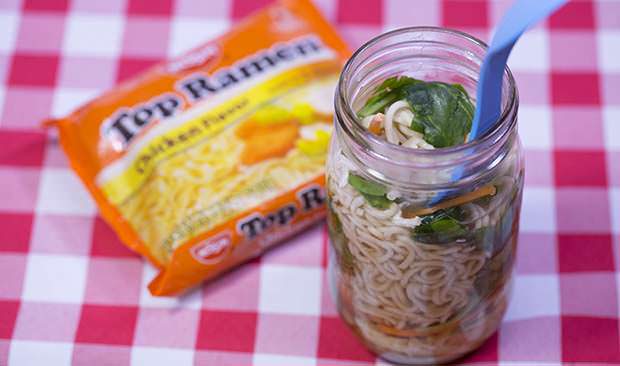 Nissin Top Ramen Pint Jar Soup
Make up a bunch of these at home. Show up for the next camp out with the pre-prepped pint jars stowed in your camping cooler, boil some water, and you'll be the hit of the campground. It's that easy!
[adrotate banner="140″]
Nissin Top Ramen Pint Jar Soup
Ingredients
1 pack Nissin Top Ramen chicken flavor
½ Tbsp. soy sauce
½ tsp. hot sauce
½ cup shredded rotisserie chicken
¼ cup carrot, peeled and thinly sliced
½ cup baby spinach leaves
Instructions
At home, boil the Top Ramen noodles for about two minutes, leaving them slightly undercooked. Pour off all unabsorbed liquid and allow them to cool completely.
Pour the Top Ramen seasoning packet into the bottom of a heat resistant glass pint jar.
Add soy sauce, hot sauce, shredded chicken, carrots, and spinach.
Fill jar with cooled partially-cooked Top Ramen noodles.
Seal the pint jar, and place in refrigerator or cooler until ready to eat. (Will keep well for two days if cold.)
At the campsite, boil one cup of water and pour over contents of the jar.
Screw the lid back onto the jar, and allow all ingredients to steep for 2 or 3 minutes.
Stir and enjoy!