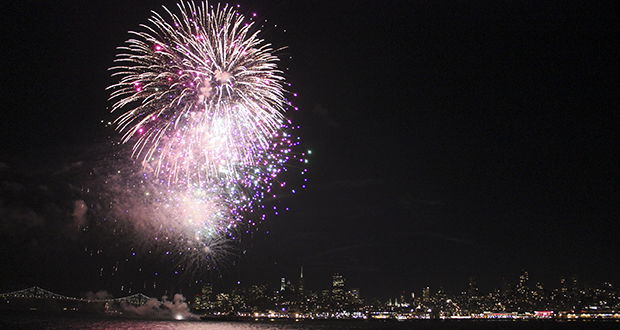 8 Great Cities Where Fire Meets Water on the Fourth
Even if you can't get away for the Fourth of July weekend, there are many great places—maybe even close to home—to view fabulous fireworks displays over the water. Here are a handful of the best urban displays across the country. Who says fire and water don't mix?
Chicago, Illinois – Navy Pier over Lake Michigan
If you live in Chicago and you're looking for a great way to see the city's fireworks display, head to Navy Pier for some of the most breathtaking fireworks displays around. Due to crowds, you should plan to make a day of it because the Pier gets so crowded they will shut down admission and turn thousands away.
Excelsior, Minnesota (Minneapolis Suburb) over Lake Minnetonka
If you live in the Minneapolis/St. Paul metro, the biggest water-based fireworks event is on Lake Minnetonka in suburban Excelsior. The family can enjoy a full day of great activities beginning early in the morning and running well past dark. Get to the Commons Park in downtown Excelsior early and stake out your perfect fireworks viewing spot. Bring plenty of food and water, or purchase something delicious from the food vendors in the park or on Excelsior's streets.
Boston, Massachusetts over the Charles River
One of the best places in all of America to see the Fourth of July fireworks is in Boston on the Charles River. About half a million people gather to watch this much-loved event, and this year will be no different. Check out the free Boston Pops Fireworks Spectacular. These fireworks will thrill everyone who sees them. You can also enjoy the Boston Pops Concert before the fireworks show. The fire works display can be seen from tall buildings like Top of the Hub, roof tops, or right on the banks of the Charles River.
Miami, Florida over Biscayne Bay
If you're a Miami (or vicinity) resident and you're looking for the best place to watch fireworks this year in your own "backyard", head over to Bayfront Park in downtown Miami and secure a great viewing spot for the best fireworks in Florida. It's also the largest fireworks display in town! There are plenty of activities planned that allow you to get there early and enjoy the day with the family.
Philadelphia, PA over Delaware River
Of course America's birthplace is going to do the Fourth of July in a big way! If you live in this wonderful city and want to see the fireworks somewhere great, you have a couple of options that may appeal to you. There are events that take place from the waterfront at Penn's Landing all the way to the Benjamin Franklin Parkway, which is on the other side of town. The Benjamin Franklin Parkway will be packed with tons of live entertainment, interactive fun, and so much food you'll have a hard time deciding what to try.
San Francisco, CA over San Francisco Bay
Come to the Pier to enjoy Fourth of July Fireworks right in your own town. San Francisco's PIER 39 celebrates our nation's independence with family-friendly activities everyone will enjoy. All the fun starts at 12:00 pm with concerts, activities, and plenty to eat and drink.
After spending a day enjoying music and fun, watch a beautiful fireworks display right over stunning San Francisco Bay at 9:30 pm.
Seattle, Washington over Puget Sound
Seattle has several places that are just perfect for watching the fireworks displays. Here are some suggestions for you to make this Fourth of July one to remember. Bhy Kracke Park, 1214 5th Avenue North, is an off-the-beaten-path location right in the middle of a neighborhood.
Another great place is Ivar's Salmon House under the I-5 Bridge. It's a great place with unobstructed views of Lake Union. If you have your own boat or kayak, you are permitted to have them on the water during the displays.
Or, take the 30-minute ferry ride from downtown Seattle to Bainbridge Island for unparalleled fireworks viewing over Puget Sound.
New Orleans, Louisiana over Mississippi River
There are a lot of fun Fourth of July festivities where you can see awesome fireworks in New Orleans, but the annual Go Fourth on the River event draws the most attention. Dueling Barges is a fun and exciting fireworks display set to patriotic music. This awesome display is world renowned. The fireworks show usually begins around 9:00 pm or a little after. Consider watching the show from one of the Steamboats offering special fireworks cruises.