Sweater weather is finally here and we are ready to rock with 9 lip-smackin' apple recipes! There's no better way to start the fall season than by cooking up some eats around the campfire. Apples are especially delicious this time of year, which is why we've tried to include all the sweet, crunch-tastic recipes we know. There's everything from a Grilled Caramel Apple recipe and Crescent Roll Apple Dumplings to Barbecued Apple Crisp and even Dutch Oven Apple Pie! Mhmm good!
And if you aren't into making any even slightly time consuming recipes at the campsite, don't stress! Most of these recipes have preparation steps you can easily do at home before you head to the campsite, saving you time and effort when you're supposed to be relaxing in nature.
Grab your tent, your Dutch oven, and head for the woods. And don't forget the kids! Your little ones will have a blast helping with these quick and easy apple creations.
Grilled Apple S'more Nachos
We all know how amazing traditional s'mores can be around the fire, but there are other ways to enjoy our campfire go-to. This spin on a classic will definitely satisfy your sweet tooth with cinnamon, marshmallow, and chocolate-y goodness.
Granny Smith apples are recommended for this recipe but feel free to use whatever apples you have on hand. Mix it up and send us the recipe if you discover something new!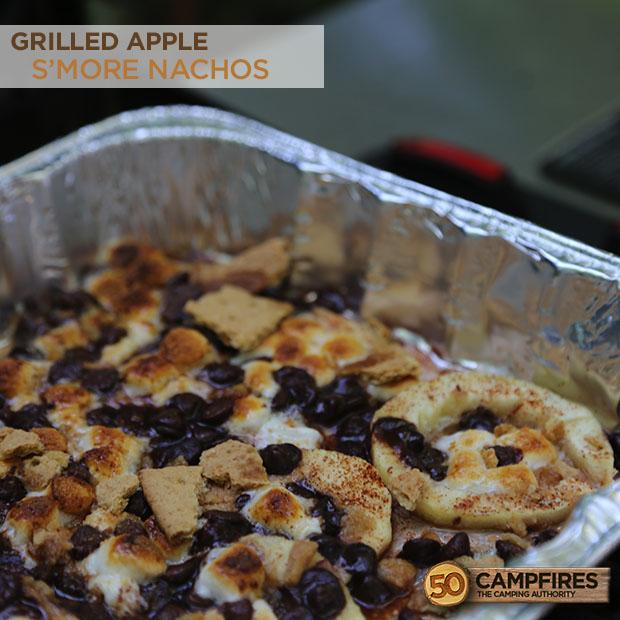 Barbecued Apple Crisp
Some people prefer to save deliciously crispy desserts for a special occasion – not us! This seasonal Barbecued Apple Crisp recipe can be your breakfast, lunch, or dinner (no judgment here). It's a warm, flavorful treat that's easy to make and really hard to share. This Barbecued Apple Crisp recipe can also be served a la mode with your favorite vanilla ice cream. Yum!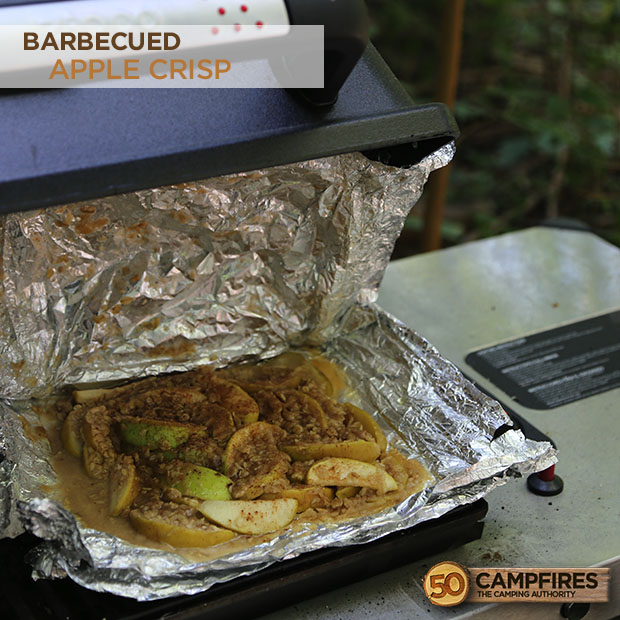 Caramel Apple S'mores
These fireside eats will be a hit on the next camping trip! Simple and delicious, just roast your marshmallow and put an apple slice in the mix. Crunchy, caramel-y flavor for the whole crew to enjoy.
Don't have Granny Smith apples? Use whatever apples you have on hand. Chocolate sauce or other squeezable sweeteners can also be substituted for the caramel, if desired.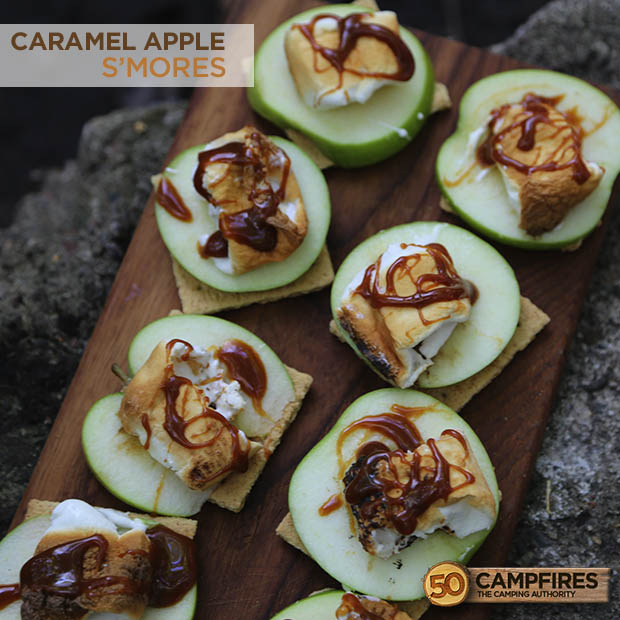 Campfire Caramel Apples
This recipe is about as easy as it gets, folks. You just pop the foil in the fire and forget about it (until your timer goes off, of course). What do you get? A baked, buttery apple with melted caramel and cinnamon sugar. Who's hungry?
The recommended serving size is one apple, so feel free to double or triple the recipe if you're cooking for more than two people.
Tip: You can also cut the apple into several slices and serve as a light dessert.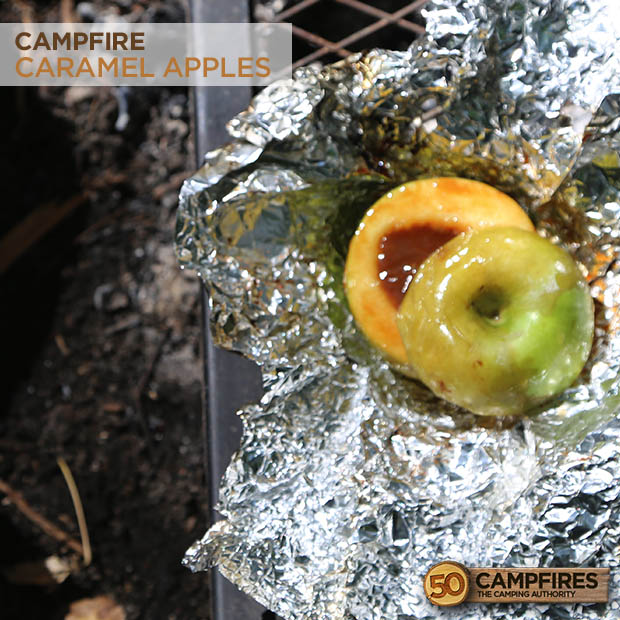 Campfire Apple Pie French Toast Rolls
You may want to double up the ingredients, it's that good. This is not your typical French toast recipe, unless your typical recipe involves sweet apple pie filling! Served warm, these yummy toasted rolls are the stuff dreams are made of.
And why stop at apple pie? You can also substitute Nutella, jam, chutney, etc. for the bread filling. Use your imagination, you really can't go wrong with this one.
S'mores Caramel Apples
This yummy recipe will have your campers begging for s'more! Yes, we realize this is not an ideal recipe to actually make at the campsite, as caramel apples require a bit more work, and a refrigerator, but we just had to include this recipe, because it's ideal for people who love the outdoors! I mean a s'mores caramel apple? C'mon!
There are a few extra steps for this caramel apple-on-a-stick, but if you put in the work, it'll all be worth it. And who says you have to do the work alone? Kids will love helping you dunk each apple into the sweet melted sauces. Bring on those sticky fingers!
Tip: This recipe can also be served as an appetizer, if you cut up the apples once the layers have all hardened.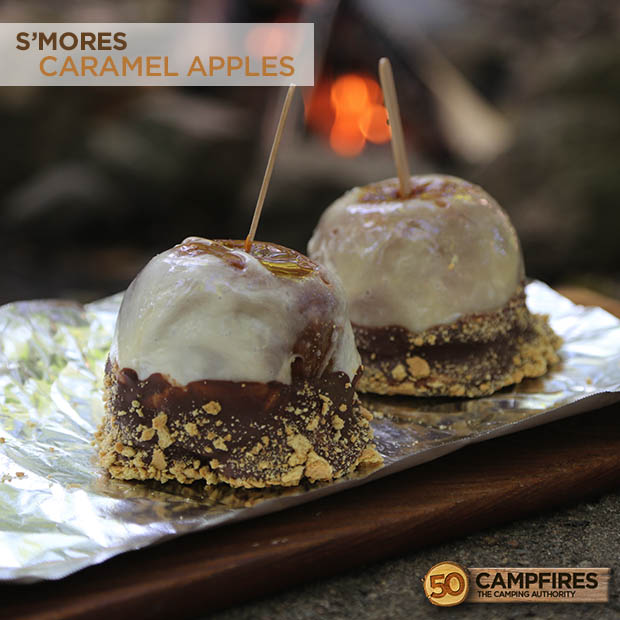 Grilled Caramel Apples
Foil packs are the way to go for outdoor cooking – they're easy to prep and require little clean up. Here's another delectable fall treat to put in the rotation. The flavor combos of caramel, apple, and cinnamon will blow your ever-loving mind!
If you're in the mood for grilled apples a la mode, serve it with your favorite vanilla ice cream and dig in!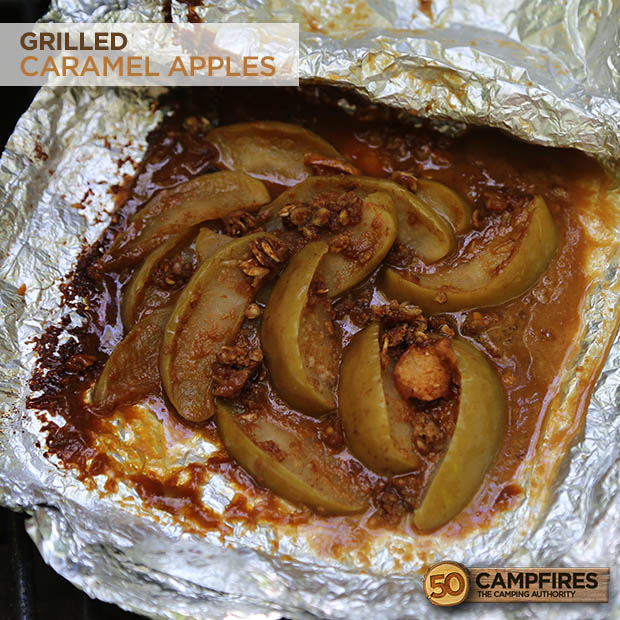 Crescent Roll Apple Dumplings
Is there anything better than warm cinnamon sugar apples wrapped in soft, flaky bread? We didn't think so. These deliciously sweet rolls are great for campground cooking, and the kiddos will be happy to help with assembly.
This recipe takes very little time, even if you decide to double the ingredients. As with the other recipes, feel free to use whatever apples you have on hand. Who are we to judge?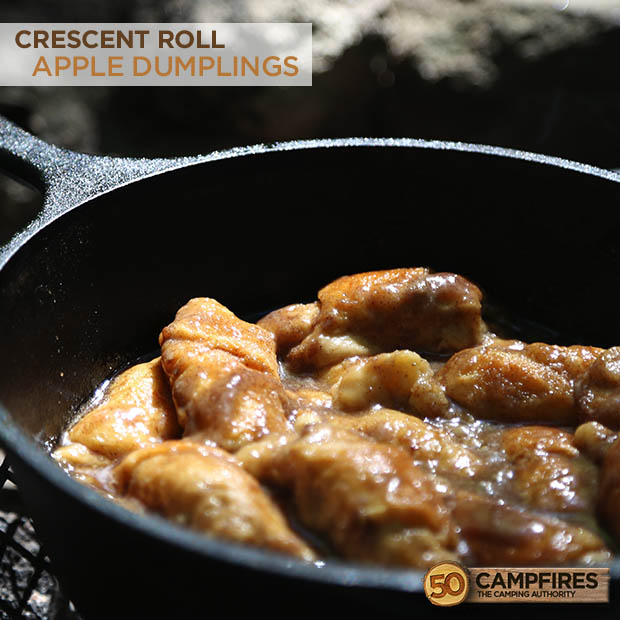 Dutch Oven Caramel Apple Monkey Bread
This seasonal monkey bread will have you feeling all the feels, after your first bite. Pull-apart sweet treats are so easy for camping, especially when the Dutch oven does all the work. Prep the food as you sip your morning coffee, and present the breakfast of champions to your half-awake squad.
No nuts, no problem! This yummy recipe is also great without nuts for campers with dietary restrictions.