You may love S'MORE's just the way they are, but if you are willing to break away from the conventions of a 'traditional' S'MORE I highly suggest you give Reese's Peanut Butter Cups a try.
These Reese's Peanut Butter Cup S'MORE's have everything a normal S'MORE can offer but adds the delightful taste of peanut butter. Just like a Hershey's Bar, the peanut butter cup fits perfectly on a graham cracker. It is a little thicker than the Hershey bar but it really isn't noticeable when you are eating it.
If you have an adventurous soul, I suggest adding this twist to your next S'MORE.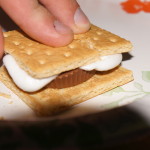 REESE'S PEANUT BUTTER CUP S'MORE'S
INGREDIENTS
1 graham cracker
1 Reese's Peanut Butter Cup
1 Marshmallow
DIRECTIONS
Use a stick to put the marshmallow on, roast over the fire to your liking. Break the graham cracker in half and put the Reese's Peanut Butter Cup on top. Add the marshmallow and use the other graham cracker to help you get the marshmallow on the stick. Give it a little squish to melt everything together and enjoy!