Pork Chops are popular everywhere in the States for a reason: they're an American classic. The Bone-in Pork Chop is even better, but we'll take any thick cut chop. The bone seals in the juices from the edge of the chop and keeps it warm longer off the grill. What's not to love!?
To make a truly amazing pork chop recipe you really don't need much, just a nice thick cut chop, olive oil, and kosher salt. One thing most people don't know is that pork doesn't need to be well-done anymore. A little pink in the center is totally fine, and way more juicy-delicious!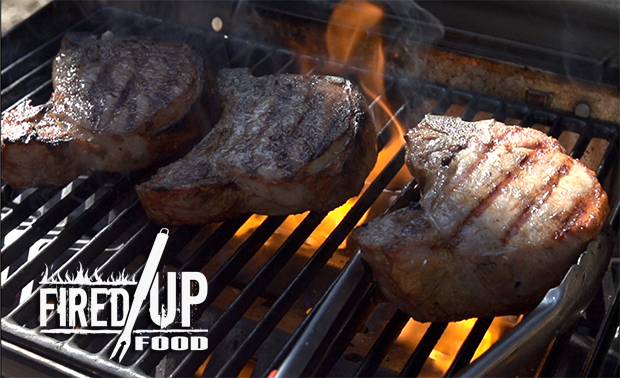 These amazing chops need a just as amazing side dish so we always make this Bacon Apple Slaw Recipe. Serving up this thick, juicy pork chop and a scoop of the bacon apple slaw will be a perfect end to your evening at the campsite.
Pork sometimes gets brushed off as either too trendy or too old fashioned, but in reality, it's timeless, classic food. We don't know a single, warm-blooded carnivore who can resist this plate. Cooked on the grill in the great outdoors… Are you kidding? That's a knockout.
Amazing Campfire Bone In Pork Chop Recipe
Ingredients
4 Bone In Pork Chops, thick
8 tbsp olive oil
¼ cups kosher salt
Instructions
Heat the grill to high, but not incinerating. Rub the chops down evenly with Olive Oil and season with salt.
Put the chops on the grill and close the top. Flip every two minutes and close the grill. They should take 6-10 minutes depending on the thickness of your chops.
The easiest way to tell if your pork chop is done is by poking the center. If it's firm, but with a bit of give, it's perfect. Hard, and it's well done. Take them off the grill and leave on a board with a foil tent to keep warm.