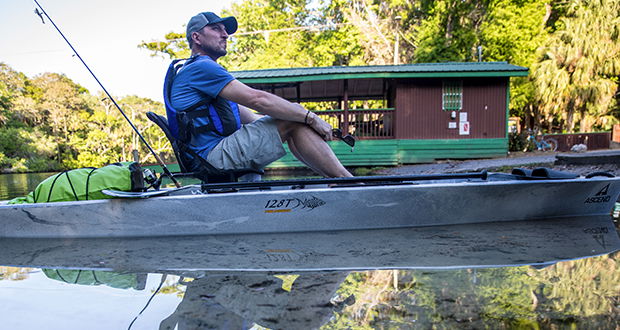 Ascend 128T and H10 Kayaks : Review
On our last trip to Florida's Nature Coast, we spent the week in two different Ascend kayaks. It was a glorious week of paddling and fishing, and we ended up liking different features on each of the two kayaks. Here's the breakdown so you can decide which one would be a better fit for you.
Ascend 128T Yak-Power Sit-On Kayak Review
The Ascend 128T Yak-Power Sit-On Kayak is jam-packed with features that you won't find on another fishing kayak for this price. You get two large weather tight storage areas that will easily hold anything you'll need for an entire day on the water. It's very stable when casting from a standing position, and even has a pull up assist strap that makes getting up and down much easier. There are four flush-mounted rod holders, which makes your setup more flexible, and the seat is fully adjustable and comfy. The last feature we'll mention that makes the Ascend 128T a game changer is the Yak power system. It's wired for your fav0rite 12V accessories with a master controller and three power plugs throughout. This makes for tidy casting platform without wires all over the place.
$849.99
Ascend H10 Sit-In Kayak Review
The Ascend H10 Sit-In Kayak is a few feet shorter than the 128T but still performs well as a fishing kayak. It's a great mix of stability and maneuverability, thanks to the tunnel hull with a stepped bow and stern keel. The large storage areas in the front and rear are covered with mesh, making it easy to access gear. We particularly liked the cockpit side storage bags for quick access to smaller items. One is mesh and the other is a dry bag. There are mounting rails in front and on both sides of the seat, so there is no shortage of places for electronics. The seat was comfortable, and the open cockpit made it easy to get in and out. Whether it's recreational paddling or fishing, we think the Ascend H10 is another great choice for those looking for a smaller vessel.
$599.00