Aspect Solar Power Pack PRO 60 Review
What better way to get an overall idea of the Aspect Solar Power Pack PRO 60 bundle than to test it in the office? We charged it up and ran an office desk lamp off of it to see how long it would last. We got five and a half hours of charge out of it on a 110-volt draw.
Appearance: The Aspect Solar Power Pack has a great rugged look to it. The components come in a clamshell case that is water and weatherproof. It is a durable hard case that will withstand the elements. The solar panels are sleek and fold up nicely, while the energy bar battery pack is a strong box inverter that will also withstand rugged terrain.
Functionality: Aspect Solar has created a really neat product with the EnergyBar, but they're most excited about the ability to pack that type of battery pack & inverter all into 8 pounds. Its slim physique enables it to be used anywhere that's needed without taking up a ton of room.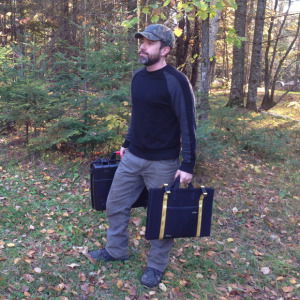 Ease of Use: The Sunsocket EnergyBar was super simple to run. Once charged, it was as easy as flipping the switch and plugging in the device you want to charge. The EnergyBar also comes with a universal outlet to ensure anything you need to charge will be able to fit.
Durability: Even at only 8 pounds, this device packs a punch. Its material is clearly rugged and durable. We'd feel confident taking it outdoors anywhere and not being worried about it getting banged up.
Value: The Aspect Solar Power Pack PRO 60 bundle includes the Sunsocket EnergyBar 250, EP-60 Portable Solar Panels, EC-250 Clamshell Case, and a DC-154 Adapter Cable. All of this separately would retail around $900. This bundle together has an MSRP of $799.99. Seems like a good deal to us!