Grilled Ham & Cheese Sandwich Loaf
This awesome camping lunch recipe idea assembles in minutes and is very easy to cook over the campfire or on the grill.
I am always searching for new lunch ideas that I can make while we are out camping. I found this little gem because of National Grilled Cheese Sandwich Day. It's on April 12 if you were wondering. This is such an easy way to feed a family while camping! I have made it a few times now and everyone always enjoys it.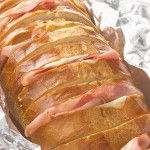 GRILLED HAM & CHEESE SANDWICH LOAF

Prep time: 15 minutes
Cook time: 25 minutes
Serves: 6
INGREDIENTS:
1 loaf Italian bread (10 to 12 inches)
3 tablespoons butter or margarine, softened
1 tablespoon spicy brown or country-style Dijon mustard
6 slices (1 oz each) Swiss cheese
¾ lb thinly sliced fully cooked ham
INSTRUCTIONS:
Spray 25×18-inch sheet of heavy-duty foil with cooking spray. Without cutting all the way through, cut loaf of bread into 12 (3/4-inch) slices, cutting to within 1/4 inch of bottom.
Stir together butter and mustard. Spread every other slice of bread with slightly less than 2 teaspoons mustard mixture, creating 6 sandwiches. Fold each slice of cheese in half diagonally; tuck each into sandwich. Divide ham evenly among sandwiches, tucking in to fit. Place loaf on center of foil. Seal edges, making tight 1/2-inch fold; fold again, allowing space for heat circulation and expansion.
Place foil-wrapped loaf on grill over medium heat. Cover grill; cook 20 to 25 minutes or until cheese is melted and loaf is hot, turning loaf frequently. To serve, open packet carefully to allow steam to escape. Remove foil from loaf; pull apart sandwiches.