Fall Foliage Guide
Unfortunately, many people do not take the time to seek out some of their area's best fall colors and stick to going to a local park. Sure, anyone can simply wander around aimlessly looking for a small group of trees and call it leaf viewing, but you're not one to be dispirited about your trips outdoors.  You want to be fully prepared to photograph the best fall foliage your area has to offer. Here is our fall foliage guide to make sure you find the best area and have all the right tools in your photography arsenal to get the best shots.
The first question you need to ask yourself is simple: Do I know where I am going? It's not like you can ask Google Maps where the most colorful trees are. Luckily, there is an app for that! Leaf Peepr is a must download if you are not quite sure where your fall photography will take you. Leaf Peepr is a map app that allows users to add and view photos, write comments, and rate the foliage status of locations all over the United States. This is a great resource to get reliable updates on foliage from other users just like you. Download for free on the iTunes App Store and the Google Play Store.
Speaking of apps in our fall foliage guide, Leafsnap is another great app that helps you identify different kinds of leaves. Simply snap a picture of the leaf and get the top results using visual recognition software. This is a great app that makes leaf collecting fun for you and the kids.
Now that you have found a beautiful spot, its time to pull out the device you use most, your phone! In recent years, the iPhone's camera capabilities have increased drastically, especially when you compare it to the early versions of cell phone cameras. iPhone users are now able to shoot panoramic photos, time lapses, and in slow motion. For those of you who want even more out of your camera, here are three of our favorite iPhone camera apps that will have you sharing photos of professional quality in no time.
ProCam 3
Take control of photos and videos like never before. This is perhaps the most advanced and versatile camera app in the App Store. Boy Genius Report says, "It basically turns the iPhone into a futuristic DSLR camera." Many apps only give you manual control for photos, but ProCam 3 gives you the same amount of control while shooting video. The most notable features are still photo capture during video recording, the ability to shoot in 4k ultra HD, and live light level histogram. Although $4.99 seems like a lot to pay for an app, remember that you are essentially getting a whole new camera.
Buy now for $4.99
Hydra
If you want an app that gives you a similar interface to iPhone's standard camera. And packed with even more features, the road stops here. Hydra is designed to let you take beautiful photos in lighting conditions that are less than optimal.  Not quite sure how this is possible. But creators of the app also made it possible to shoot photos up to 32 megapixels. Remember that your iPhone 6s has a 12MP camera. The zoom mode works flawlessly and reduces noise to make photos clearer than ever before. With five capture modes, you're guaranteed to take some of the best photos possible with Hydra.
Buy now for $4.99
Shoot
Shoot was created by the same developers as ProCam 3. The simplicity of shoot makes it the perfect app for people intimidated by complex interfaces. Sure, a experienced photographer would have no problem manually adjusting the ISO and white balance with confidence, but for others, simplicity is nice.  Although Shoot is not supported on iPad, it packs in almost all of the features of ProCam 3 but does not have any video capabilities and only supports a 4:3 aspect ratio.
Buy now for $1.99.
However, if you prefer to dig a little deeper into our fall foliage guide and actually take a camera out with you on your adventures, we've found a few options for you as well. These aren't anything too fancy. This app will deliver you good photos at a good price. But remember to be very careful and purchase the right accessories to keep your camera safe while camping and exploring outdoors.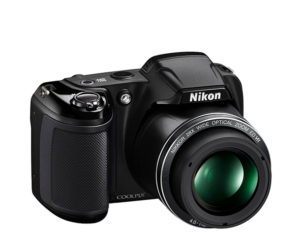 Nikon Coolpix L340
This is a very popular point and shoot camera that is optimized for taking photos and videos near, far, and everywhere in between! What users enjoy most out of this camera is the superb 28x optical zoom telephoto lens with vibration reduction. This allows you to take sharp 20.2 MP pictures and steady 720p HD videos. This is great for outdoors because it can be difficult in cross-rugged terrain to get near your subject. And the powerful zoom takes care of that for you.
Buy now for $146.00
MP: 20.2
Sony DSC-W80

For this price, it's hard to pass up this lightweight point and shoot cam. It can literally fit in your front pocket. One of the great things about this camera is that it has a USB charger that quickly accumulates a good charge. We all know how cumbersome using an adapter that needs a wall plug can be. This way you can charge it in your car and never worry about it dying when you need it. Its user-friendly interface makes the menu easy to navigate through. And is simple enough for grandma and grandpa to figure out. Although this camera doesn't perform well in low light, photos are sharp even when using the 5x optical zoom.
Buy now for $88.00
MP: 20.1
Canon Powershot ELPH 170 IS
This slim and stylish Canon should fill all the requirements you are looking for in a point and shoot camera. Light yet compact, this 20 megapixel camera makes it easy to take just about anywhere. Sometimes the digital zoom makes photos slightly grainy so try and stick to the optical zoom. This is a great starter camera for those of you who are not necessarily that serious about your photography. And still want to take high quality photos.
Buy now for $119.00
MP: 20