15 Best Hot Springs in the US
Hot springs are defined by any body of water that's heated by geothermal activity. With temperatures above 95°F, hot springs will typically be as warm or warmer than a person's body temperature, so you can truly enjoy the soak. Some are heated by shallow bodies of molten rock while others are warmed by the circulation of water through faults deep in the earth. As a result, hot springs often contain dissolved minerals, which may offer benefits to those who bathe in them, from soothing sore muscles and arthritis side effects to improving skin conditions. Just be careful to only soak for 15 minutes at a time in hot springs up to 122°F—anything warmer than that can be dangerous. 
Ready to get in the water? From rustic, off-the-beaten-path hot springs to spa-like retreats with hot spring offerings, we rounded up our favorite ones across the United States. If you're lucky, you'll have the opportunity to take a dip.
1. Benton Hot Springs in Benton, California
Where to find it: Benton Hot Springs is situated just 45 minutes from Mammoth Lakes in California. Get access to the campground through Highway 120 near Highway 6.
Why it's a must-see: While Benton Hot Springs is off the beaten path, each of its 11 campsites has a private hot tub with a glorious vantage point of the sunset or sunrise. Clothing is optional at each hot tub, and you needn't worry about overexposure, thanks to the surrounding trees. Fire pits, barbecue grills and picnic tables and chairs are also available to campers.
Other things to do: Benton is rich with mining historic sites, as well as canyons, meadows and wildlife for sightseeing.
2. Chena Hot Springs in Fairbanks, Alaska
Where to find it: There are many ways to get to Chena Hot Springs. You can drive the 60 miles of paved roads yourself, hop on a shuttle or tour bus or even take a scenic train aboard the Chena Aurora Magic.
Why it's a must-see: While Chena Hot Springs is at a resort and may lack the remote, off-the-beaten-path scenario hot springs usually bring, this spot is also situated under the most active band of Northern Lights. It's been dubbed one of the best places to see the atmospheric phenomenon. At this resort, you'll find a pool and hot tubs with chlorinated geothermal water, so you don't have to worry about getting ill from bacteria.
Other things to do: During your stay, explore the Chena River, check out the ice museum, hike, cross-country ski, try dog sledding and see the wildlife.
3. Dunton Hot Springs in Dolores, Colorado
Where to find it: Dunton Hot Springs is a three-hour drive from the Denver International Airport or a five-hour drive from Las Vegas, Nevada.
Why it's a must-see: If you love being a little fancy from time to time, Dunton Hot Springs is for you. It's located on a north trending fault and controlled by "tectonic forces." Situated in the ghost town of San Juan Mountains of the Colorado Rockies, you can experience the hot springs at the exclusive Dunton Hot Springs Resort, which offers lux log cabins, massages, plus unique views below beautiful snow banks. Though it'll feel like you're in nowhere land, you'll still get proper internet to stay connected to the outside world.
Other things to do: When you're not bathing in the tranquil hot springs and enjoying what your luxury resort has to offer, you can mountain bike, hike, paddleboard and kayak down the Dolores River. You can also ski during cold-weather months.
4. Yellowstone National Park Hot Springs in Gardiner, Montana
Where to find it: If you're coming from the north entrance of Yellowstone, the hot springs just a 10-minute drive. If you're coming from Bozeman, it's about an hour and 15 minutes.
Why it's a must-see: Located just eight miles away from the north entrance of Yellowstone Park, the Yellowstone Hot Springs is situated between two mountain ranges at the bank of the Yellowstone River. While you can't just enter the park's hot springs from just anywhere, there are designated swimming areas that are okay for you to take a dip. For a resort experience, visit Yellowstone Hot Springs, where you'll find lush swimming pools filled with mineral water. Whether you go to the park or hit up the resort, you'll enjoy the mineral-rich waters that purport to improve circulation, aid in relief from stress and pain and help soothe your skin, not to mention your soul.
Other things to do: It's Yellowstone! You can see geysers, find wildlife, hike, raft, paddle, camp, hunt for rocks and fossils and immerse yourself in the local culture of Native Americans and ranchers.
5. Hot Springs National Park in Arkansas
Where to find it: You can fly into Hot Springs Memorial Field or Little Rock National Airport. Then from the former, you can rent a car or use a shuttle to access the park, or from the latter, rent a car, as it's about 60 miles away.

Why it's a must-see: Paying a visit to Hot Springs National Park, where the hot springs come up from the ground at a hot 147°F, is a must, even if you can't safely take a dip. Hot Springs National Park boasts 4,000-year-old natural spring water with temps so high that it kills most harmful bacteria. (The water is also monitored and there are locations at the park, where they will let you touch the water from cooler pools.) While the hot springs in the park itself are not open to the public for actual bathing, you can trek over to Bathhouse Row, which has facilities like The Buckstaff Bathhouse and The Quapaw Bathhouse that allow visitors to take a dip in the thermal water that's held at a safer temperature. Thermal springs are sent to these bathhouses so you'll still get the natural experience though in a modern, spa-like setting. 
Other things to do: In addition to the commercial bathhouses Hot Springs has to offer, you can also tour historic locations, see the Grand Promenade, eat and drink at Superior Bathhouse Brewery and camp at Gulpha Gorge.
6. Conundrum Hot Springs in Aspen, Colorado
Where to find it: To get to the hot springs, you'll have to drive 12 miles from Aspen to Maroon Bells-Snowmass Wilderness, then do a challenging 8.5-mile hike from Conundrum Creek trailhead.
Why it's a must-see: Found in a remote section of the Maroon Bells-Snowmass Wilderness area, the Conundrum Hot Springs offers rock-lined soaking pools at an elevation of 11,200 feet. With an approximate temperature of 98°F, bathers will find a beautiful setting around them with spectacular views of the Rocky Mountains and waterfalls. This hot springs experience is not meant for those looking for a spa-like time—it's for the no-frills adventurer.

Other things to do: When you're done soaking, you can do a historic or ghost tour and
7. Glenwood Springs in Colorado
Where to find it: You can drive, take a bus or even ride a train to get to Glenwood Springs. It's a three-hour drive from Denver, and an Amtrak train can take you there from various routes departing from Chicago to San Francisco.
Why it's a must-see: Home to the world's largest hot springs pool that's open daily, Glenwood Springs also boasts several resorts to experience the mineral waters of the Rocky Mountains. 
Other things to do: In addition, you can also enjoy the White River National Forest, Glenwood Canyon, Hanging Lake and the Glenwood Caverns Adventure Park, which has roller coasters and other amusement park rides.
8. Umpqua Hot Springs in Roseburg, Oregon
Where to find it: The trailhead to access the hot springs is a four-hour drive from Portland or a 2.5-hour drive from Eugene. A short hike is required to get to your final destination.
Why it's a must-see: You'll find the geothermal Umpqua Hot Springs along the North Umpqua River in Roseburg, Oregon. You can soak (for up to 15-minute stretches) in any of the eight of the terraced pools that have waters as warm as 112°F. They overlook a river valley nestled in a pine forest with wooden structures above that offer protection from rain and sun. While the spot is "clothing optional," it's not as remote as you may like so expect to see other visitors during your excursion.
Other things to do: The nearby town of Roseburg, Oregon is known for vineyards, so enjoy a glass of wine or two! You can also go fishing, see waterfalls, hike and learn about the area's history at the Douglas County Museum of History & Natural History.
9. Hot Springs State Park in Thermapolis, Wyoming
Where to Find It: Hot Springs State Park can be entered off Highway 20 in Thermapolis, Wyoming, a 4.5-hour drive from Cheyenne.
Why it's a must-see: While the mineral hot springs flow from Big Horn River at a constant temperature of 135°F is too hot for people to wade in, there's a no-fee bathhouse in the vicinity with water that's maintained at a comfortable 104°F. Consider it the best kind of therapeutic bathing ever—perfectly relaxing and totally free!
Other things to do: There are accessible hiking trails, fishing spots and boat docks around, as well as a full-service park equipped with restrooms. Depending on the time of year, you may also see the area's bison herd.
10. Radium Hot Spring in Kremmling, Colorado
Where to find it: You'll find Radium Hot Springs in Colorado along the Colorado River, about a 4.5-hour drive from Denver or 2 hours and 15 minutes from Aspen. Be prepared to hike and climb to reach the destination after you park.
Why it's a must-see: The area surrounding Radium Hot Spring is undeveloped and has a remote vibe. The mineral-rich water rises in the spring due to the snow melt and the geology of the Rocky Mountains, and maintains an approximate 95°F during the summer, which is the best time to visit. 
Other things to do: You can raft down the river, stay at a campsite nearby and dine in the surrounding area, which has various eateries and bars.
11. Weir Creek Hot Springs in Idaho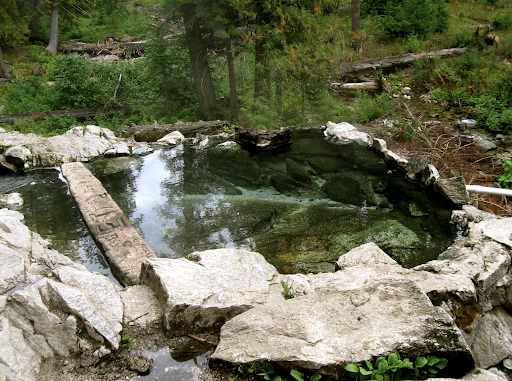 Where to find it: You'll have to drive to Clearwater National Forest in Idaho, about three hours from either Spokane, Washington. and Missoula, Montana. Once you arrive, you'll need to do a moderate 0.7-mile hike to get to the hot springs.
Why It's a must-see: You'll enjoy a beautiful landscape of cedars and rock cliffs while you soak in natural waters up to 105°F. If you want a more tranquil excursion, go during off months in winter but be prepared for slippery conditions. Be aware it's clothing is optional.
Other things to do: When you're not soaking in the hot springs, peaceful hikes in the enchanting forest of pines, cedars and rock walls await you, as does wildlife to sight such as bears, mountain goats, owls and more.
12. Granite Falls Hot Springs in Jackson, Wyoming
Where to find it: You'll find Granite Falls Hot Springs at the end of Granite Creek Road off of Highway 189 in Jackson, Wyoming. It'll take you about 1 hour to get there via a long scenic drive on a bumpy dirt road.
Why It's a must-see: Open only in the summer and winter, the man-made swimming pool was built in the 1930s to make the most out of the natural hot springs cascading from the adjacent cliffside.It offers comfort facilities including bathrooms, picnic tables and information kiosks.  
Other things to do: In the area, you can snowmobile, dog sled and ski during the winter, and camp, fish and raft during warmer months.
13. McCredie Hot Springs of Willamette National Forest in Oregon
Where to find it: You'll find McCredie Springs in Lane County, Oregon, just over an hour from Eugene. Prepare for a lot of winding roads before you reach the hot springs.
Why it's a must-see: With shallow waters ranging in temperature between 98 and 114°F, McCredie Hot Springs is an ideal spot for soaking. The mineral-rich water has silica, sulfur, magnesium, sodium bicarbonate and calcium, all of which are said to help improve circulation, relieve arthritis and soothe skin, among other health benefits.
Other things to do: In addition to the hot springs, you can swim in lakes and creeks in Willamette National Forest. You'll also appreciate the year-round activities for day-trippers and vacationers alike, which include hiking, camping, fishing, skiing and rafting. And if you're lucky, you'll even get a chance to see volcanic peaks rise. 
14. Mystic Hot Springs in Monroe, Utah
Where to find it: Located just over 2.5 hours from Salt Lake City and 4 hours from Las Vegas, Mystic Hot Springs is easy to get to. Pull into their parking lot, and make your way to the pool. Don't forget to book your pass before you go to avoid issues.
Why it's a must-see: Want the opposite of remote? You can buy a pass at Mystic Hot Springs to soak in two concrete mineral-rich pools and six vintage cast iron bath tubs ranging from 99 to 110°F while getting a lovely view of the Utah sunset. The water spills from channels across the property, and you can even get a water massage from a waterfall plunging in the pool. Unlike most hot springs, this spot also boasts a 4-foot deep pool where you can stretch and float for healing and meditative purposes, in addition to a spa on the premises to book treatments.
Other things to do: Mystic Hot Springs also hosts acoustic live shows. Also around town, you'll find an art museum, a golf course and various eateries.
15. Steep Ravine Hot Springs in Stinson Beach, California
Where to find it: This hot springs-meets-beach is just a half-hour drive from the Golden Gate Bridge in Marin County, California.

Why it's a must-see: Unlike the others on this list, this Steep Ravine Hot Springs stands out because it's located at a beach where the warm waters seeps up from the sand. Bay Area locals soak their feet in the hot sand at Steep Ravine Beach even when there's no water in plain sight. To see the water more exposed, you'll have to use California's tide chart to know when to go. (Hint: Look for negative tides.)
Other things to do: While at the soft white sand beach, you'll also have the opportunity to soak in the red cliffs stretching three miles. Get ready to 'gram it! Art galleries, eateries and hiking also await you.