15 Best Places to Scuba Dive on Earth
The Big Blue Marble has no shortage of mind-bending wonders just below the surface—roughly 71 percent of the earth is covered by water, after all. With training and the right gear, scuba divers get to discover a lot of that magic, from otherworldly caves to alien-esque creatures.
What makes a dive great can be subjective: One person might be in search of pristine, neon-bright coral reefs, while another prefers the thrill of swimming with some of the biggest whales on the planet. No matter your taste, you'll find at least one scuba dive site to add to your bucket list.
1. Blue Corner
Where: Palau
Dive level: Advanced
Why it's the best: Blue Corner's pumping currents attract some of the biggest schools of fish in the sea with predators to match. Here, you can hook onto the reef and enjoy the show! As the currents change, you never know what pelagic life might float by, from whale sharks to eagle rays.
What you'll see: Tuna, big-eye trevallies, barracuda, snapper, wahoo, bump head parrotfish, scorpionfish, lionfish, anemonefish, sea turtles, Napoleon wrasse, and reef sharks
When to go: November to May
2. Manta Night Dive
Where: Kona, Hawaii
Dive level: Beginner
Why it's the best: The ultimate night dive, this legendary experience off the coast of Kona on Hawaii's Big Island is all about manta rays. Divers descend to a sandy observation area where illuminated by torches, the giant filter feeders swoop above them, inhaling gulps of plankton and performing acrobatic turns. The light attracts plankton, which in turn draws in the mantas. The outing boasts a 90 percent success rate, and on a lucky night, you may see over 20 of the gentle creatures.
What you'll see: Mantas galore
When to go: Sightings year-round; best conditions April to October
3. Socorro Island
Where: Mexico
Dive level: Advanced
Why it's the best: Dubbed the Mexican Galápagos, the remote Socorro Island, part of Mexico's Revillagigedo National Park, is a mecca for pelagic life and the largest marine reserve in North America. Here you can dive with some of the world's friendliest—and biggest—manta rays, play with wild bottlenose dolphins, swim beside calving humpback whales, and observe seven shark species including whale sharks.
What you'll see: Depending on the month: manta rays, humpback whales, orcas, bottlenose dolphins and tuna, as well as whale, Galápagos, tiger, whitetip, silvertip, silky and hammerhead sharks
When to go: November to May
4. Silfra Fissure
Where: Iceland
Dive level: Beginner (dry suit certification or experience required)
Why it's the best: Located in a fissure between the North American and Eurasian tectonic plates in Iceland's Thingvellir National Park, Silfra offers the totally unique opportunity to dive between continental plates. The two land masses are actually still drifting apart (about two centimeters a year) so the dive site is constantly undergoing incremental changes. And then there's the visibility. Because the water is filtered through porous underground lava for 30-100 years before reaching Silfra, you'll be able to see 300 feet ahead of you on a typical day.
What you'll see: Arctic char from August to September (mating season)
When to go: Year-round; June to September for the best conditions
5. South Africa's Sardine Run
Where: South Africa
Dive level: Advanced
Why it's the best: A dive for true adrenaline junkies, South Africa's sardine run is the continent's underwater answer to the Great Migration. A few weeks each year between May and July, millions of the little fish swim along the eastern coast to spawn, drawing in every predator around, including dolphins, large game fish, Cape fur seals, birds, sharks and whales. The result is a heart-pounding free-for-all that puts divers at the center of the action.
What you'll see: Common dolphins, mackerel, tuna, humpback whales, Bryde's whales, Cape gannets, penguins, Cape fur seals and bronze, whaler, dusky, blacktip, bull and nurse sharks
When to go: May to July
6. Cape Kri
Where: Indonesia
Dive level: Beginner
Why it's the best: The jewel of Raja Ampat, frequently ranked as the destination with the highest marine biodiversity on earth, Cape Kri is all about pristine coral gardens, clear turquoise water, and more fish species than you can count.
What you'll see: Whitetip sharks, grey reef sharks, moray eels, triggerfish, Napoleon wrasse, cuttlefish, porcupinefish, sea turtles, snapper, barracuda, grouper, nudibranch and sea turtles
When to go: October to April
7. The Great Blue Hole
Where: Belize
Dive level: Advanced
Why it's the best: The Great Blue Hole is the largest ocean sinkhole in the world—it can even be seen from space. It's also an unusual dive in that there's not a lot of coral or color. Expect impressive stalactites and stalagmites, as well as other unique rock formations. The coral reef surrounding the hole, however, is full of Caribbean fish and sharks.
What you'll see: Angelfish, blacktip sharks, nurse sharks and tropical fish
When to go: Year-round; consider going between April and June to see the whale sharks in nearby Placencia
8. Darwin Island
Where: The Galápagos
Dive level: Advanced
Why it's the best: If you like to chase megafauna, you can't do better than the Galápagos, where pelagic animals gather at the converging, nutrient-rich currents and cleaning stations surrounding the northern islands of Darwin and Wolf. There's so much to see, most liveaboards plan six or more dives at Darwin itself—and no two dives will ever be alike.
What you'll see: Huge schools of scalloped hammerheads, Galápagos, silky, silvertip, blacktip, and whale sharks; sea turtles, orcas, humpback whales, dolphins, sea lions, fur seals, eagle rays, manta rays, moray eels, bait balls and a large selection of colorful fish
When to go: July to October for the best sightings; December to May for the best conditions
9. The Great White Wall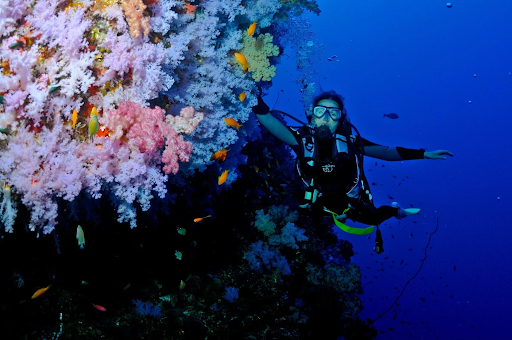 Where: Fiji
Dive level: Advanced
Why it's the best: Fiji is well-known as the soft coral capital of the world. On most reefs that translates to kaleidoscopic colors, but at the Great White Wall in the Somosomo Strait, a stunning 200-foot vertical drop of pure white coral, dotted with splashes of red, orange, and green, will take your breath away.
What you'll see: Grey reef sharks, dogtooth tuna, barracuda, jacks, manta rays, and reef fish
When to go: April to October
10. Tiputa Pass
Where: French Polynesia
Dive level: Advanced
Why it's the best: With currents that can top seven knots, Tiputa Pass is one of scuba's great thrills. And divers aren't the only ones who enjoy the ride. Playful wild dolphins—who sometimes swim up asking for a belly scratch—like to come along, too. The pass is also full of sharks—it's not unusual to see 100 reef sharks in a single dive—and, depending on the time of year, you may spot a rarer find, such as a humpback whale, tiger shark or manta ray.
What you'll see: Grey, whitetip, blacktip and silvertip sharks, great hammerheads, humpback whales, dolphins, eagle rays, manta rays and schooling fish
When to go: May to October for the best conditions; August to October for humpback whales and manta rays; January to March for hammerheads and eagle rays
11. Jardines de la Reina
Where: Cuba
Dive level: Beginner
Why it's the best: Once Fidel Castro's private fishing and diving grounds, this protected marine park is arguably the healthiest section of the Caribbean today. Come here to dive with dozens of silky sharks, explore an untouched reef system and—if you dare—snorkel with saltwater crocodiles through the mangroves.
What you'll see: Caribbean reef sharks, silky sharks, giant grouper and saltwater crocodiles
When to go: December to April
12. Richelieu Rock
Where: Thailand
Dive level: Moderate
Why it's the best: An isolated, rocky outcrop in the Andaman Sea, Richelieu's remote location and dense reefs makes it a magnet for pelagic creatures passing by, such as whale sharks and sea turtles. The resident fish and towering, intricate coral heads are a thing of beauty as well.
What you'll see: Whale sharks, manta rays, tuna, trevally, barracuda, sea turtles, octopus, squid, glassfish, moray eels and macrolife
When to go: December to April
13. The Blue Hole
Where: Egypt
Dive level: Tec
Why it's the best: A deep, natural sinkhole in the Gulf of Aqaba, the Blue Hole has an infamous reputation as the most dangerous dive site in the world. In reality, it's just the arch section that can be hazardous, as recreational divers sometimes feel overconfident in their ability to handle the horizontal tunnel, full of majestic coral overhangs, that sits at a perilous 180 feet. If you aren't trained in tec diving, the easier Blue Hole Wall, with its vibrant soft corals and clouds of fish, can be equally rewarding.
What you'll see: Reef fish, boxer shrimp, nudibranch, and octopus; hammerheads, sailfish and eagle rays have been spotted on the outer reef
When to go: Year-round
14. Barracuda Point
Where: Malaysia
Dive level: Advanced
Why it's the best: One of the most popular dive sites at Sipadan, the only volcanic island in Malaysia, Barracuda Point provides the best of both worlds: a spectacular coral reef alongside tornadoes of pelagic life. With more than 3,000 species of fish and hundreds of coral species identified, it ranks as one of the most biodiverse scuba destinations in the world. And, yes, it lives up to its name: Expect massive schools of silvery barracuda.
What you'll see: Sea turtles, hammerhead sharks, reef sharks, manta rays, bumphead parrotfish, jackfish, nudibranch, reef fish, sea stars and barracuda
When to go: April to December
15. The Ningaloo Reef
Where: Australia
Dive level: Beginner
Why it's the best: One of the longest fringing reefs in the world, Western Australia's Ningaloo Reef often gets overlooked in favor of its cousin, the Great Barrier Reef, on the east coast. But Ningaloo is just as worthy of a dive—more so if you favor the big stuff. Whale sharks, humpback whales, and manta rays migrate through these waters every year.
What you'll see: Whale sharks, humpback whales, manta rays, dugongs, orcas, dolphins, reef sharks, lemon sharks, tiger sharks, and over 500 species of fish
When to go: March to August for whale sharks; June to November for humpback whales; May to September for the most manta rays