With the Fourth of July quickly approaching, if you are like me and you are beginning to put together your patriotic campfire menus, don't forget the artillery! Not just fireworks, but bombs. Onion Bombs, that is.
The first time I made this recipe I was a bit skeptical. I like onions, but it seemed to be A LOT of onion. I was pleasantly surprised at just how good the onion bombs were. The onions came out juicy and flavorful and the burger was perfect. You just can't go wrong with that combination.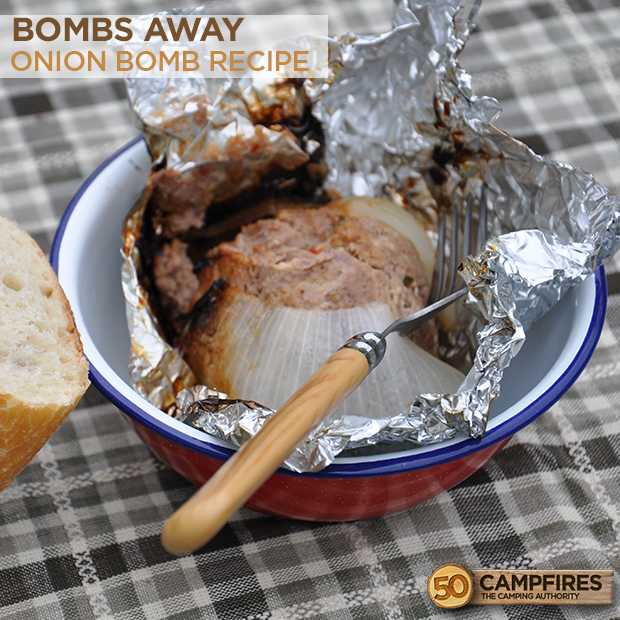 If you want to do some prep work before you leave your home, pre-mix the burger ingredients and keep it in an air tight container. You can even freeze the mixture and just let it thaw in the cooler until you are ready to use. Doing some work beforehand will allow you to relax a bit more at the site. Plus you won't have to mess with raw meat at the picnic table.
You will need at least two to three large onions to form the bomb casings. Remove the outer onion paper skin carefully, and chop the onion in half from stem to bottom as evenly as you can. Separate each onion layer into matching pairs from the outside to the inside. Take the Pre-mixed burger ingredients and form into balls of meat. These meat balls will be surrounded by a layer of onion. You will want to have foil sheets ready before assembling the bombs.
I was camping with a group of people when I first made these and everyone loved them, even the kids!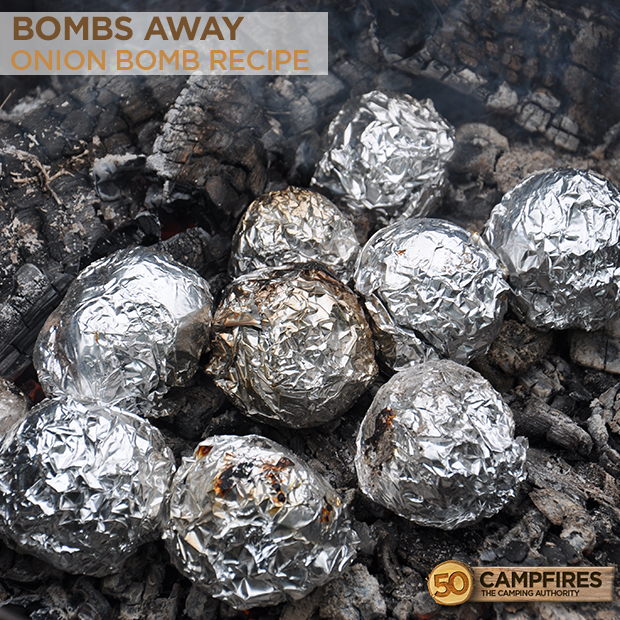 Bombs Away Onion Bomb Recipe
Ingredients
2 to 3 large onions
1½ lbs ground beef
½ pound bulk sausage
2 eggs
2 to 3 cloves of garlic chopped
⅓ cup ketchup
2 tablespoons Worchester Sauce
1 cup breadcrumbs or crushed saltine crackers
½ cup water, beef broth or beer [more if needed so meat mixture is moist but firm like when forming meatballs]
¼ cup parsley and/or chives chopped
Ground pepper and salt to taste
1 package Dried Onion Soup mix is optional if you are a huge onion fan but reduce the amount of salt in the meat mixture
Instructions
Mix ingredients all together with clean hands. Form a meat ball the size to fit between the two onion shells. The size of each meatball depends on the onions. Secure meat between the two pieces of onion.
Foil sheets are about the size as if you were wrapping to bake a large potato. Sheet shiny side down spray dull side of foil with Pam or grease with Crisco before placing bombs on the prepared foil.
Put a drop of water on each onion ball before wrapping. Wrap each onion ball in the foil with a twist at the top. You may wish to use one layer of regular foil and one of heavy duty, because the bombs will be in the fire on hot coals. I did not and the caramelized brown of the onion skins added additional flavor. Be careful not to rip or poke holes in the foil, especially the outer layer.
Place the foil balls in the hot coals.
Cook for about 10 minutes, flip-over, and cook another 10 minutes. Keep a close eye on packets so as not to burn in case the fire is too hot. The onion keeps the meat nice and juicy. Serve with potatoes, a salad and crusty bread.