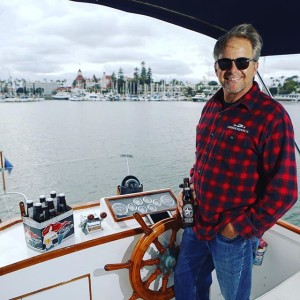 Twenty years ago, Coronado Brewing Company opened the doors of a brewpub on Coronado Island off of San Diego, California. Simple, easy-going, So-Cal laid back was what they were after … what they achieved … and what they've maintained today. Coronado has grown and gained recognition, but continues to cherish and present an authentic "coastal vibe." Catching up with Ron Chapman, CEO and co-founder, 50 Campfires learned among the Coronado Brewing team, the outdoor experience and taste has always been a major motivator – and continues to be to this day and beyond.
Tell us a little about your brewery, the types of beers that you brew, and what you feel makes your brewery unique.
We've been around for 20 years and have watched the craft beer world grow beyond what we could have ever imagined. We started as a small brewpub on Coronado Island and have grown to the fourth largest brewery in San Diego. In 2014 we were shocked when we won the 'Super Bowl' of the craft world, World Beer Cup Champions for Mid-Sized Brewery. This is such an honor and still to this day remains one of our favorite memories.
What sets us apart is our approachability. We are a family run and centric brewery and like to brew balanced beers to share with friends who seek a coastal vibe and share a passion for great beer. When you come into our brewery, everyone can find a beer they can drink and have fun with their friends.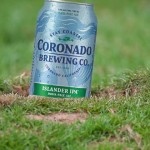 What is your most popular/flagship beer? What makes it great?
Islander IPA was one of the first beers we brewed in 1996 and continues to be our most popular. Winning the World Beer Cup Gold Award for this beer was awesome. It gave us the street cred this beer deserves after all of these years. What makes it great? This is a classic San Diego IPA that is well balanced with a citrus and piney flavoring.
We love hearing stories about how breweries got their start. What's the history behind yours?
We opened our Coronado Brewpub back in 1996. Previously, the only type of restaurant that we had managed was a small coffee shop. Rick and Ron both had previous careers and did this out of passion.
Shawn DeWitt, co-founder and director of brewery operations, went to learn the ropes of brewing from La Jolla Brewing for a few months while we tried to figure out how to run a brewpub. We haven't looked back and have been successful. Can't believe it has been 20 years already. Having a brewpub in the heart of Coronado has been a fun ride and we couldn't have a conversation without mentioning all the support from our military friends. With the Navy base being a big part of Coronado, we see them in uniform every day coming here to relax with their family and friends. The fact that we can provide that atmosphere means a ton to us and to them.
We love meeting people who share our passion for the outdoors. Tell us a bit about the folks involved with your brewery, and what they enjoy doing outdoors.
Living in SoCal affords us the opportunity to spend a great deal of time outside. We even have a 1972 Grand Banks Trawler, SeaKing Sirens, that we take out often to soak in the rays, show out-of-town friends our amazing city and enjoy being out on the water with co-workers. Surfing is second nature to our city and we even have one of our top beertenders competing all through SoCal and Mexico.
In regards to camping and hiking, there isn't a weekend that goes by someone from the team isn't out and about. From hitting a hike at Torrey Pines to camping out on the Silver Strand, we love embracing all that SoCal offers.
Here are a few different stories from some of our team:
Kyle Chapman, art and design manager:

Rick (president and co-founder) and I hiked Mt. Whitney together in July 2000. We hiked all the way up only to see five feet in front of us because it was snowing when we reached the top and then we hiked down in the pouring rain. But hey, we did it and can claim we climbed to the top of the highest mountain in the continental U.S. Round trip 11+ hrs. I've also hiked Picacho Del Diablo, the tallest mountain in Baja.  3 days up, one day down. I can also live off veggie hot dogs, chili, and beer for at least a month at any given campground.

Rick Chapman, president and co-founder:

When I was in Jr. High and High School, I was in a Coronado surf club, which we incorporated into a Boy Scout troop we formed. We were called Surfer Explorer Post, Troop 803. Two people whom piqued my quest in life for adventure and exploration ran it, a former Coronado Frogman, Stan Antram (HOOP) and his wife Laura (MOTHER). We would raise money for the Coronado community and our Troop through the 20-30 Club of Coronado. We would do a paper drive every month where we would pick up recycled newspapers across the community, then sell them at the recycle center.

We purchased a 1940 Dodge truck from my Great Uncle Tom Frozio's estate. We built a wagon train type surf rack for the truck which we would strap 20 plus boards to the rack, cram as many surf rats into the cab and bed of truck as we could, along with Mother's car, and then head south to the many surf spots south of the boarder. We also used the truck for our paper drives and rode in the Fourth of July parade along with the 20-30 Club.

J.D. Douglas, chief financial officer:

In keeping with the Stay Coastal theme, in 2006 I had a week off from work and a hall pass from my wife. I joined up with a few of my family members at the Northern tip of Oregon and we spent the next 5 days biking the Oregon coastline from north to south. The days would start with campfire breakfasts, including coffee cooked on the fire before breaking camp for the day and biking anywhere from 50 to 80 miles. We'd usually pull into our new destination, which was a state campground and set up for the rest of the day.

Afternoon happy hours consisted of local craft beer, which was also used in cooking a mixture of fish and vegetables in "tin foil" boats on the fire. After dinner there was more time around the fire to enjoy a beer and talk about the adventures of the day and plan the next. Most nights were spent in tents often with the sound of breaking waves in the background as we fell asleep. This was one of the best and fastest weeks of my life and when I close my eyes and think back to that time, my thoughts are of warm campfires, chilled craft beer, and beautiful coastline views while pedaling next to family that I love.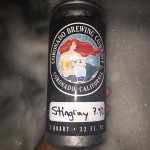 Is your beer available in cans?
Our beers are available in 32-ounce Crowlers (can growlers) in our tasting rooms, which make them perfect for camping. We also just released our first set of cans including Islander IPA, Orange Ave. Wit, and a new beer, Easy Up Pale Ale.
Where can we find your beer?
Our beers are in: Arizona, California, Colorado, Connecticut, Florida, Hawaii, Illinois, Massachusetts, Michigan, North Carolina, Nevada, New Jersey, Ohio, Oregon, Pennsylvania, Rhode Island, Virginia, and Wisconsin. Internationally you can find us in: Australia, Canada, Brazil, Germany, Mexico, New Zealand, South Korea, Spain, Sweden, and Japan.
To find the beers available near you, you can search by zip code on our beer finder.
If people want more info about your brewery, where can they go?
Our website is CoronadoBrewing.com, and follow us on social media: Twitter, Instagram, Facebook, YouTube, and on Snapchat at @CoronadoBrewing.
Congratulations to our Coronado Prize Pack Giveaway winners – Veronica, Michael and June!