In The Can: Good People Brewing Company – Birmingham, AL
Nestled in downtown Birmingham, Alabama near the urban green space of Railroad Park is Good People Brewing Company. In just 10 years, co-founders Michael Sellers and Jason Malone have propelled the brewery into one of the most successful and engaging craft operations in the south.
50 Campfires caught up with Michael and Jason to chat about what sets their brews apart, their love of curating brews for the every-man, and the crew of Good People that make it all happen.

Tell us a little about your brewery, the types of beers that you brew, and what you feel makes your brewery unique.
Good People Brewing Co. is a craft brewery located in Birmingham, Alabama. Founded in 2006 by Michael Sellers and Jason Malone, we are the oldest and largest brewery in the state of Alabama and a leader in the South's craft beer movement. We were the first craft brewery in the Southeast to can our beers.
We have six year-round offerings known as the "Ales from the Heart of Dixie": Brown Ale, Pale Ale, IPA, Coffee Oatmeal Stout, Snake Handler, and Bearded Lady (an American Wheat). Throughout the year, Good People offers four seasonal beers including a Session IPA (new name coming soon!) (a beer for summer), Mumbai Rye (a rye IPA for autumn), Fatso (a Russian imperial stout for winter), and Hitchhiker (a West Coast style IPA for spring), along with a handful of small batch offerings known as the Bearded Reserve.
Our brewery is unique because we brew quality beer for the every-man. We're not trendy, nor flashy. We brew beer for every color collar. Living in the South and being a part of this culture gave us the inspiration and passion to create something we love and are proud of. We've always been Southerners. Brewing just came next. We live in a community that loves to eat, drink, and be together. There's no better way, in our opinion, to do this than over a beer.
What is your most popular/flagship beer? What makes it great?
Our best selling beer/flagship brew is our IPA. We're all hop heads over here at Good People, so it's tough to describe our IPA as anything other than delicious. But, you know, what else are the actual brewers going to say? It's a crisp, clean, well balanced IPA. We think this beer goes well with a meal or just by itself. We add a big wallop of Willamette hops to give a nice piney aroma and flavor, but have grapefruit citrus and bready flavor to back it up.
We love hearing stories about how breweries got their start. What's the history behind yours?
After graduating from college, Alabama-natives Jason Malone and Michael Sellers discovered a love of craft beer through overseas travel, and dreamed of recreating the complex tastes in the South. Honing their craft over several years, the beers had humble beginnings – mostly served out of kegs and picnic pumps at tailgates. With friends' encouragement and support, Jason and Michael emptied their savings and opened Good People Brewing Co. in 2006. Two years later, after a long and arduous labor of love, Good People Brown Ale was the first Good People beer ever sold. The original version of the Brown Ale recipe remains carved into Michael's garage workbench ten years later.
The name came from the old Southern saying that uses the plural to describe the singular ("that Jack, he's good people!"), describing someone who is salt of the earth and a good person to their core. Michael and Jason heard a friend describing people he knew as "good people" and realized that's what they wanted their brewery to be called.
On all of our cans you'll see the line, "Legally brewed since 2008." We like to think of July 4, 2008 as our birthday because that's when we sold our first keg. It was our Brown Ale, and the original recipe is still written on Michael's workbench at his house.
In 2009, the grassroots lobbying movement Free The Hops succeeded in getting the Gourmet Beer Bill passed, raising the Alcohol By Volume (ABV) limit from 5.9% to 13.9%. Immediately, national breweries started sending new beers into Alabama and Good People was free to make almost any style it liked.
In 2010, the brewery moved to our current location and increased our space from 2,000 to almost 28,000 sq. ft. We've been in this space ever since.
We love meeting people who share our passion for the outdoors. Tell us a bit about the folks involved with your brewery, and what they enjoy doing outdoors.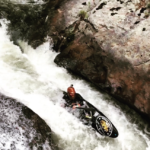 On top of brewing and drinking beer, all the Good People folks love getting outside. The landscape of Alabama comes as a surprise to most people, but we have both the beach and mountains to enjoy. When summer hits and it's 92 degrees in the shade, swimming holes and lakeside retreats are where you can find us. When "winter" in the South hits (even though it's currently flurry-ing outside as I type), we still like to get outdoors to explore our local parks, go for a long hike on the weekends, or get up in to the mountains for a weekend away with friends. We've got a great mix of rock climbers, kayakers, disc golfers, runners, and pro-day drinking enthusiasts.
Is your beer available in cans?
Yes! We have our IPA, Pale Ale, Brown Ale, Bearded Lady (American Wheat), and Coffee Oatmeal Stout available in cans year round. We release Snake Handler, our Double IPA, in cans once a year.
We're big believers in canned beer. Since all of our beers tend to be on the hoppier side, we think cans protect the integrity of the beer better. Cans help protect our brews from oxygen, so they're fresher longer and help protect against light, so our beer doesn't become skunked. Cans are a great every day carry for Alabamians. You can take them with you camping and to the beach. And, the great part about cans is that they're fully recyclable!
Where can we find your beer?
We currently distribute from Nashville, TN all the way down to Mobile, AL. However, the first two weeks of March will see the Florida Panhandle and Chattanooga, Clarksville, and Cookeville, TN with our beer.
If people want more info about your brewery, where can they go?
If people want more info about our brewery, they can visit our website at www.goodpeoplebrewing.com or follow us on Facebook, Twitter, and Instagram.