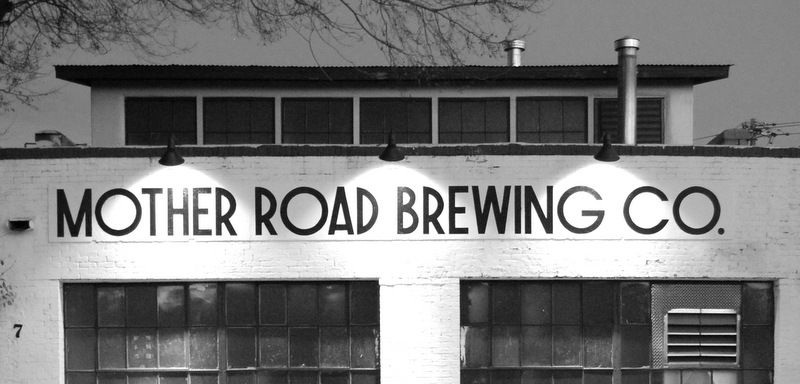 In The Light: Mother Road Brewing Company – Flagstaff, AZ
Along scenic Route 66 in Flagstaff, AZ at the historic Milum Building is Mother Road Brewing Company.
50 Campfires caught up with Michael and Alissa Marquess founders of Mother Road Brewing Company to chat about what sets their Route 66 inspired brews apart, and finding joy in the adventure of brewing, traveling, and living in Arizona.
Tell us a little about your brewery, the types of beers that you brew, and what you feel makes your brewery unique.
Mother Road Brewing Company was inspired by the Founder's love of craft beer, travel, and history.
We are located in the 1925 Milum Building on the original alignment of Route 66 as it traversed Flagstaff. The Milum was a steam laundry from 1925 through the 1990s and saw to the laundry of the hotels and restaurants of Route 66 as well as the Flagstaff Community Hospital and Arizona Teachers College (now Northern Arizona University). After years of indifference, the Milum Building has seen recent revival with our brewery; Pizzicletta, a wood fired Neopolitan style pizzeria; and Flagstaff Bicycle Revolution, a bike and repair shop.
Mother Road Brewing Company brews ales; concentrating on American styles like our Lost Highway Black IPA and Tower Station IPAs with some European influences such in our Mother Road Kölsch style ale and Fourth Anniversary English style barley wine.
Mother Road is unique as we brew from the heart and live our tagline of 'finding joy in the adventure' in our travels whether camping in a hop field, road tripping on remote two lane highways, or heading out to an ultimate Frisbee tournament.
What is your most popular/flagship beer? What makes it great?
Our most popular beer currently is our recently released Tower Station IPA. Its description follows:
Parched motorists on Route 66 anticipated hospitality at Tower Station, opened in 1936. This unfiltered IPA greets you with a copper-orange hue and fluffy white head, releasing aromas of tangerine and pineapple. Pilsner and Pale malts balance hop-derived flavors of grapefruit peel and pine to finish the journey. Specifications: 7.3 ABV 70 IBUs
We are especially proud of this beer as it recently made the Top 250 list of Beer Advocates Best New Beers at 84 of 250. The Beer Advocate score overall is 92 of 100 and a Rate Beer score of 96 of 100. Both scores were recorded on January 24th. As you see from the description we like to integrate the history of Route 66 into inspirations for our beers and their branding. I was enamored with the Conoco Station in Shamrock, Texas when I visited it in 2011 and knew a beer would come of it someday. Our brew team came together and created a great IPA!
We love hearing stories about how breweries got their start. What's the history behind yours?
Driving on a dark stretch of two lane road, my wife and I were discussing how to better live our creed of 'finding joy in the adventure'. We decided to create a brewery that brings together our passions of craft beer, travel, Arizona and the enjoyment of life.
Of course that's the refined, brochure version. It messily happened that way on a road trip in our 1982 Westy van on the way back from Colorado across the Reservation, that long stretch from Cortez to Kayenta. The kids had been surly with a hot desert crossing and finally fell asleep in the back seat. As is with Alissa and me, our most heartfelt conversations happen in the front seat on road trips – it's our thing. However, this decisive moment happened only after several years of me being miserable at my job conducting real estate appraisals which overflowed into my family life making me an unpleasant person (Alissa has great expletives for what a sorry person I was during this time).   This was also after Alissa, for months, urged me most vociferously to do something I liked, fulfilling our need to live our lives fully. And finally, when she convinced me that turning my hobby of home brewing into a business was not totally crazy and that the family could handle the risk. Thus, with her less than benign persuasion, she and I founded Mother Road. So, basically, Mother Road's genesis was of Alissa.
We love meeting people who share our passion for the outdoors. Tell us a bit about the folks involved with your brewery, and what they enjoy doing outdoors.
Where to start? My family and I like to find a stretch of two lane highway and get lost. We typically camp in our Westy off of lonely highways, forest service roads, or tracks of dirt in undeveloped places where we can let the kids and dogs run loose.
As a brewery team, we collectively play ultimate Frisbee across the southwest, mountain bike (the neighbors shop is a plus here), throw disc golf, ride bikes to work, ski, board – well you name it. After being cooped up in a hot brewhouse all day, we like to get outside.
Our favorite trip as a team was to Highwire Hops in Paonia, Colorado.  The brewery was invited to pick our own fresh, organic hops for a wet hop ale.  This turned into a brewhouse and founder's retreat with beer, frisbee, horseshoes, and picking choice hops.  The bonus was camping two nights in a hop field with friends.  It gets no better than this!
Is your beer available in cans?
Thus far, our first can is the Tower Station (Beer Advocates No. 1 Rated Arizona beer) is a 16 ounce tall boy with the convertible top. The top of the can pulls off similar to a tuna can and allows you to fully enjoy the aroma of the hops and malt. Mother Road Kölsch Style Ale now available in cans. Following the Kölsch, our summer seasonal (four years running) of Roadside Grove which is a pale ale flavored with grapefruit juice will be canned.
Where can we find your beer?
Our beer is distributed in Arizona and New Mexico, state-wide.
If people want more info about your brewery, where can they go?
You can check our website at motherroadbeer.com, follow the two Founders on Instagram, on Twitter @motherroadbeer and on Facebook at motherroadbeer.