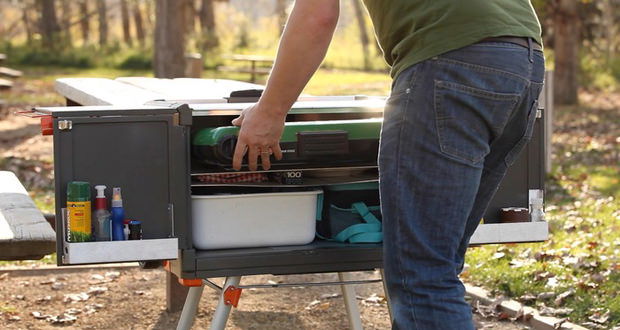 Camp Caddy Helps You Stay Organized
Camp Caddy Helps You Stay Organized and Prepared While You Camp
Everyone at 50 Campfires and all our readers have at least one thing in common, we all agree camping is awesome. However, sometimes problems with organization and packing can ruin a trip before it even starts. We searched for a solution and reached out to Greg Peterson to talk about his new invention that is on kickstarter. The Camp Caddy goes from storage box to camp kitchen in seconds. This invention was made to relieve the stress of organization and packing your camping gear. Having one less thing to stress about will help you focus on the reason you are camping in the first place.
Whats Your Backstory?
We share a love and a passion for the great outdoors, especially camping. However, our camping trips became stressful and a lot more work once kids entered the picture. One night in particular comes to mind when we were woken in the middle of a cold dark night to fix a bottle. All our camping gear was put away for the night and the simple task of warming up a bottle became a nightmare. It was this time in particular that we knew we needed a better organization system. Greg recalled the idea of the chuck box from his scouting days and got to work building his own. We were so impressed with the organization it offered that we got it into our heads that every camper could benefit from this concept. However, we knew the limitations of our wood model, so started looking into properly designing a plastic version that could offer more features and more flexibility.
After testing out many different ideas over the past 3 years on Google Sketch-up and wood prototypes, we came up with some tried and tested dimensions for our future Camp Caddy. We shared these plans with various Industrial Designers and hired Fig 40 out of Toronto who shared our passion for our product and who worked well with our ideas. We are thrilled with the result!
What was your motivation to make this product?
1) After discovering a better way to cook away from home, we decided our idea was too good not to share!
2) We wanted to challenge ourselves to bring a great product to market
3) We didn't want to grow old not knowing if our dream could have been a reality
What are the uses for the Camp Caddy?
The Camp Caddy is a storage unit on wheels that converts from a cooler sized box to a fully functional work station in a few simple steps. While it's primary design is focused towards a camp kitchen, the portable design makes it suitable for any event that requires a portable storage unit with table.
Camping, roadtrips, picnics can all benefit from the convenience of a portable kitchen. With it's heat resistant, easy clean aluminum work top, to the organized storage cupboard built in, Camp Caddy has been designed with portable cooking in mind. No longer is packing and preparing an issue as you can simply grab your storage box and go!
What Makes it Better from the Traditional Travel Tote?
Rather than spending weeks preparing for camping, days packing up for camping and hours at the campsite cleaning up and organizing your gear, we have developed a product that does all this for you.
Not only does it store and organize everything for you, it also allows you easy access to all your gear while cooking up a meal. How often do we all get frustrated digging through totes to find that can opener we're sure we packed along or the flipper for our burning pancakes. You can now have all this convenience right at your fingertips. It's like packing along an organized kitchen cupboard instead of a deep messy kitchen drawer!
What makes this product unique?
There is no other camp kitchen on the market that can store all your kitchen gear, fold down to fit into a trunk, keep out the mice, provide a work table, and be pulled around on wheels! It really is that convenient!
What do we hope to accomplish with kickstarter?
The ability to determine demand and raise funds to produce our product while reducing risk for purchasers was the main reason for choosing kickstarter to launch the Camp Caddy.