Nothing says camping like sausage and vegetables cooked over an open flame. This is a must try easy camping recipe, for a smoked sausage & vegetables foil pack that will bring a sweet & spicy kick to your campsite. It is so simple to make, yet so delicious!
This is a great recipe to have prepared ahead of time and just take out of the cooler to cook.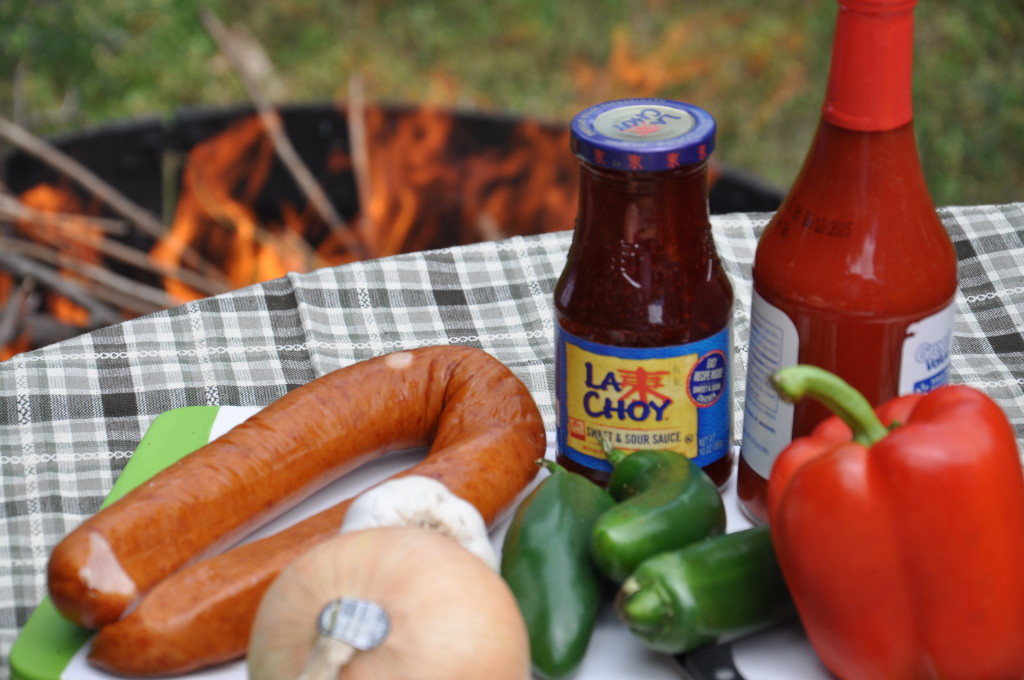 CAMPING FOIL PACK RECIPE: SWEET & SPICY SMOKED SAUSAGE & VEGETABLES
INGREDIENTS:
1 lb. smoked sausage, sliced diagonally in 1 inch slices
3 jalapeno peppers, sliced
3 garlic gloves minced or chopped finely
1 red pepper, cut into bite size pieces
1 sweet onion, cut into bite size pieces
¼ cup hot sauce (I use Louisiana Hot Sauce)
1 10 oz jar of sweet & sour sauce (I use La Choy Sweet & Sour Sauce)
Heavy duty aluminum foil
Spray Crisco to grease the foil
DIRECTIONS:
Place sliced sausage, jalapeno and red peppers, onions and garlic on a large sheet of greased heavy duty foil. Mix hot sauce and sweet & sour sauce in a small bowl and pour over sausage and veggie mixture. Seal the foil tightly. Wrap another sheet of foil around the packet and seal tightly.
Place foil packet on grill or fire grate. Cook for approximately 40 minutes. Turn every 10 minutes. Use gloves or oven mitts. Do not use utensils that will pierce the foil. Remove from fire and slit the foil open carefully. Plate up! Enjoy alone, or with eggs, rice or potatoes. You don't have to tip the take-out delivery guy because you're the person who delivered this savory delight!