Looking for something new to bring to the dinner table? Here's a great Balsamic Chicken Supreme recipe by CanCooker that will really get your taste buds watering. With a tasty combo of red onion, baby gold potatoes, carrots, and a few other ingredients to accompany a chicken breast, this recipe is sure to please everyone at your table.
The CanCooker and CanCooker Jr. are quick and simple to use and any heat source available will work. Layer your favorite vegetables on the bottom and meats on top. Add 12 ounces of any liquid—water, soft drinks, beer, juice or marinades—and your choice of seasonings before locking down the lid. Then just place the CanCooker over any heat source that will boil water. Within 15 minutes, you'll see steam, and about 45 minutes later, your complete mouth-watering meal for your entire group will be ready to serve.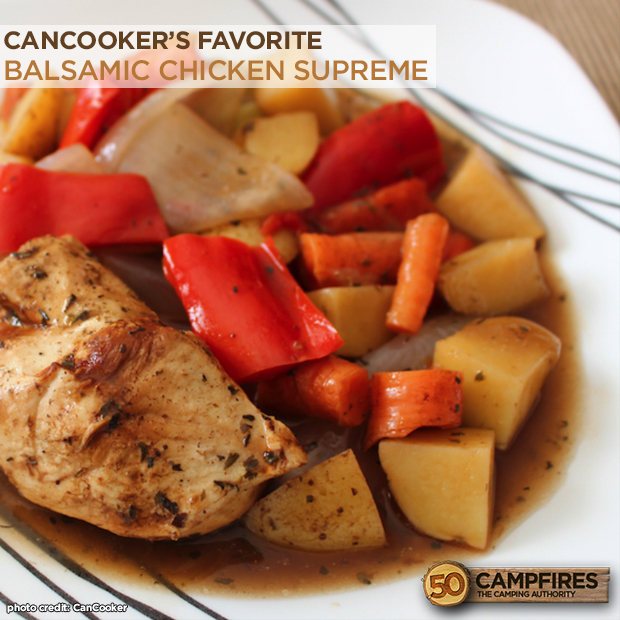 CanCooker's Favorite: Balsamic Chicken Supreme
Ingredients
3 lbs of boneless chicken breast, cut in half
1 large red onion cut into 1″ pieces
1½ pounds of baby gold potatoes cut into 1″ chunks
1 cup of balsamic vinaigrette dressing
1 cup of water
8 carrots cut into 1″ pieces
3 celery stalks cut into 1″ pieces
½ tablespoon of each: dried Thyme, Basil and Parsley seasoning.
Instructions
Spray non-stick spray inside cooker. Put the potatoes, onion, carrots, pepper, and celery into the cooker. Next, add chicken on top of the vegetables. Then pour in all liquids and sprinkle the Thyme, Basil and Parsley on top of the food. Close lid and latch. Put on a medium/low cooking surface and once it starts steaming cook for 30 minutes. Remove from cooking surface and let stand a couple minutes. Carefully remove food and serve.
In response to customer demand, CanCooker™ has announced the availability of its inaugural cookbook, Everyone Can Cook with a CanCooker™. This new spiral-bound cookbook is a compilation of more than 100 pages of mouth-watering, crowd-pleasing, kitchen-tested recipes, each one created specifically for the CanCooker and CanCooker, Jr.