Beef Bourguignon is a well-known traditional French recipe. The recipe's roots stem from the Burgundy region in France. A delectable beef stew, this dish is typically prepared by braising the beef in a full-bodied, classic red Burgundy wine, and then stewed with a fantastic list of tasty ingredients. The French sure know how to whip up a great recipe!
The CanCooker and CanCooker Jr. are quick and simple to use and any heat source available will work. Layer your favorite vegetables on the bottom and meats on top. Add 12 ounces of any liquid—water, soft drinks, beer, juice or marinades—and your choice of seasonings before locking down the lid. Then just place the CanCooker over any heat source that will boil water. Within 15 minutes, you'll see steam, and about 45 minutes later, your complete mouth-watering meal for your entire group will be ready to serve.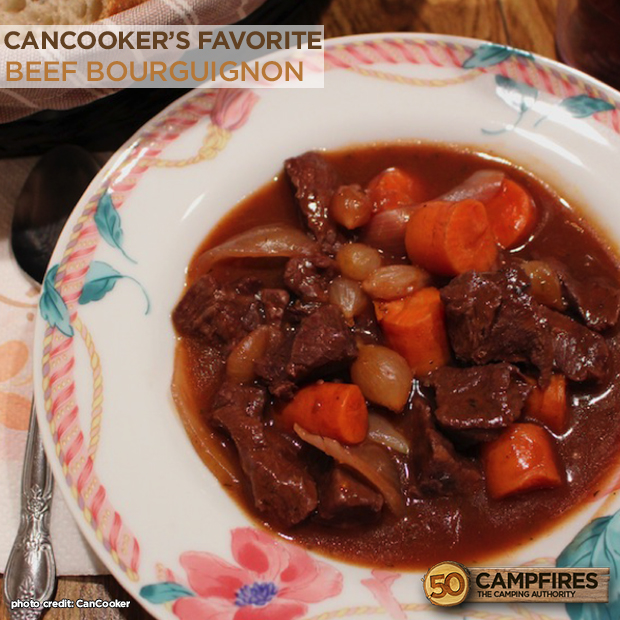 CanCooker's Favorites: Beef Bourguignon
Recipe type:
Lunch/Dinner
Ingredients
3 lbs of beef, cut into 2″ chunks & sprinkle with salt and pepper
1 onion, cut into small wedges
4 carrots, cut into small chunks
10 oz of pearl onions
½ pound white mushrooms, cut in half
4 clovers of crushed garlic
½ cup of cognac
1 cup of beef stock
6 oz of tomato paste
750 ml bottle full-bodied red cooking wine
1 tbsp of brown sugar
2 tsp of dried thyme
Instructions
Spray Pam inside cooker.
Pour in all of the liquid ingredients and mix well.
Add beef and balance of ingredients and mix in with the liquid. Close lid and latch.
Put on a medium/low cooking surface and once it starts steaming cook for one hour.
After the hour, with an oven mitt remove the lid and set aside. Stir in with a long handled spoon a mix of water and cornstarch (2 tbsp of cornstarch with 2 tbsp of water) to thicken the stew.
Let it come back to a boil for 1 minute and remove from heat and set aside.
It is now ready to be put into soup bowls and enjoyed.
In response to customer demand, CanCooker™ has announced the availability of its inaugural cookbook, Everyone Can Cook with a CanCooker™. This new spiral-bound cookbook is a compilation of more than 100 pages of mouth-watering, crowd-pleasing, kitchen-tested recipes, each one created specifically for the CanCooker and CanCooker, Jr.