Walleye isn't just tasty, it's good for you too! When prepared properly, fish provide numerous health benefits, especially for the heart. Even the American Heart Association recommends eating at least two meals of fish every week. A big bag of rice on the bottom will be the perfect addition to your wallet filet.
The CanCooker and CanCooker Jr. are quick and simple to use and any heat source available will work. Layer your favorite vegetables on the bottom and meats on top. Add 12 ounces of any liquid—water, soft drinks, beer, juice or marinades—and your choice of seasonings before locking down the lid. Then just place the CanCooker over any heat source that will boil water. Within 15 minutes, you'll see steam, and about 45 minutes later, your complete mouth-watering meal for your entire group will be ready to serve.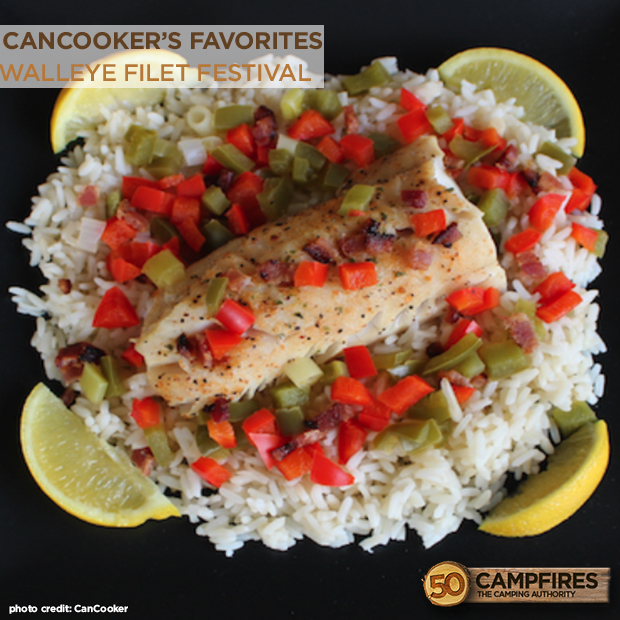 CanCooker's Favorite: Walleye Filet Festival
Ingredients
4 10 oz walleye filets
24 oz water
1 teaspoon of Worcestershire sauce
1 teaspoon of lemon juice
1 tablespoon of White Wine
1 red and 1 green bell pepper diced
1 green onion sliced ¼' thick
2 pieces of bacon cooked and chopped
1 tablespoon Agave Nectar (used to coat the tops of the filets)
CanCooker Butter Garlic Seasoning and All Purpose Seasoning
1 large bag of Success Brown Rice
Instructions
Spray CanCooker with a non-­stick spray, and add all the liquid ingredients.
Place the bag of rice on bottom along with the peppers & onion.
Place racks on top.
Close lid and place on the burner, once it starts steaming set timer for 12 minutes.
While cooking prep your filets by basting the tops with the Agave Nectar and shake a little of the Garlic Butter and All Purpose Seasoning on top.
After 12 minutes open lid carefully and with oven mitts on, use a spatula to carefully put your files on the racks.
Bring back to a steam and cook for 4 minutes.
Take the CanCooker off the cooking surface and open lid and let stand for a couple minutes.
Carefully remove the filets with your spatula and pour the rest into a colander to drain off the liquid.
You are now ready to set up your dish with rice on the bottom, filets next spoon on the pepper and onion mixture then sprinkle on cooked bacon.
For added flavor squeeze a fresh lemon on top and serve.
In response to customer demand, CanCooker™ has announced the availability of its inaugural cookbook, Everyone Can Cook with a CanCooker™. This new spiral-bound cookbook is a compilation of more than 100 pages of mouth-watering, crowd-pleasing, kitchen-tested recipes, each one created specifically for the CanCooker and CanCooker, Jr.