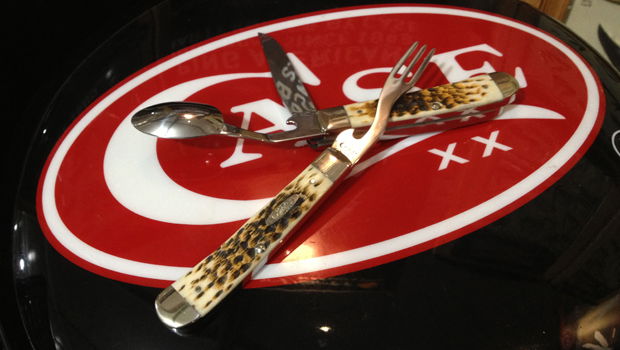 Gear of the Year : Case Hobo Knife
2014 Gear Of The Year: Case Hobo Knife
It is well known that Case makes great knives and pocketknives. When people see you walking around sporting a Case knife shell, they are already going to be jealous. You have already received their full-attention with this masterpiece. You can then whip out the knife and watch them drool. But the jealousy doesn't stop there, friends.
Next, you are going to split the handle apart and reveal that it's not just a knife. You will be rocking a three-piece set equipped with a knife in the center, a soupspoon on one side and a fork with a bottle opener on the other casing side. Boom. You're now ready to sit down with a great meal and beverage. The envious crowd that has formed will have just lost their minds that you're eating your entire meal and opening your bottle of ale with just one unit. This unit is the Case Hobo knife and it is glorious.
The Case Hobo knife has an antique amber bone detail on the side of the trapper that will stun everyone. It is the type of detail that says, "I am classy and I am ready to party like it's 1925." Case made the Hobo knives from the early 1900s all the way to the 1940s. How convenient it must have been to attain a knife with three eating utensils so easily. Well, in 1983 the Case Hobo Knife returned and has continued to bask in its multi-tool gloriousness. Well played, Case, well played.
Other Gear of the Year Winners – Eat Category