With most of the prep work done at home before you head out to the great outdoors, you can bake these breakfast-worthy Cinnamon Rolls to enjoy with your morning coffee by campfire. Make the rolls from scratch in your kitchen and pack them in a cooler to bake off at your campsite. For this recipe, we recommend using a stand mixer, but you can also mix and knead the dough by hand. You'll need a cast-iron skillet and aluminum foil or a Dutch oven with a lid for this recipe. And lining the Dutch oven with parchment paper helps make cleanup super easy.
Makes 12 rolls.
Equipment:
Aluminum foil for skillet or parchment paper for Dutch oven
Ingredients:
Cinnamon Roll Dough
2 ¼ tsps. (1 pkg.) active dry yeast
¼ cup warm water
2 tbsps. honey or 1 tbsp. granulated sugar
1 ¼ cups warm milk
4 tbsps. butter, melted and cooled
2 large eggs
1 ½ tsps. salt
5 ½ cups all-purpose flour
Cinnamon Roll Filling
6 tbsps. butter, softened
1 ½ cups packed light brown sugar
1 tbsp. cinnamon
1 cup raisins, optional
1 cup chopped walnuts or pecans, optional
Icing:
½ cup powdered sugar
1 tbsp. milk
1 tbsp. melted butter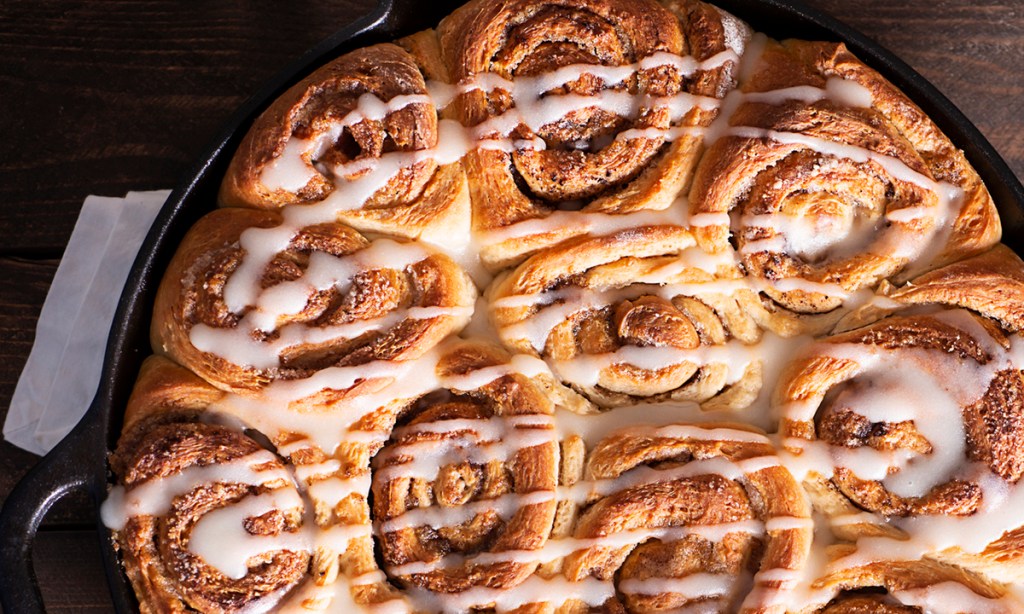 Steps at home:
Dough
In the bowl of a stand mixer, combine yeast with ¼ cup warm water and honey or sugar. Let stand until bubbly, about 5 minutes.
Add milk, butter, eggs and salt. Using a dough hook on mixer, gradually mix in 5 cups flour. Mix on medium-low speed until dough is smooth and elastic, about 10 minutes. If dough is still sticky, add about another tbsp. of flour.
Transfer dough to an oiled mixing bowl, turning dough to coat it in oil on all sides. Cover with a damp towel or plastic wrap. Let rise at room temperature until double in size, about 1 hour.
Filling
Punch down dough and knead a few times on a lightly floured surface. Roll into a 12"x24" rectangle.
Spread butter on dough.
Combine brown sugar, cinnamon, raisins and nuts. Sprinkle dry mixture evenly over dough, leaving a 1 ½" space along the top.
Roll dough into a log, starting from bottom of the rectangle, and pinch seam closed.
Cut dough crosswise into 12 rolls and store flat in freezer-safe plastic containers lined with parchment paper, leaving space between rolls. If stacking rolls in container, place parchment paper between layers. Freeze until solid, at least 6 hours.
Transport frozen dough in a cooler up to 1 day before baking at campsite.
Steps at camp:
Butter skillet or line Dutch oven with parchment paper and arrange slices in a single layer in pan. Cover skillet completely with aluminum foil or Dutch oven with lid and let rolls rise in the sun until dough is puffy and holds a small impression when pressed, 1 1/2 to 3 hours.
Place pan on grill grate and bake rolls over fire until they're browned and a skewer inserted into rolls comes out clean, 30 to 45 minutes.
Remove pan from fire, uncover, and let cool about 15 minutes.
Separate rolls with a knife.
Make icing by mixing powdered, milk, and melted butter. Spread icing on top and serve.