The only thing better than waking up in a tent to the chirping of birds and the sounds of nature is making breakfast over a campfire or on the camp stove. Breakfast just tastes better outdoors, especially with some camp coffee. When camping, I try to make meals that are easy to prepare and different then just a bagel with some cream cheese.
The chorizo and scrambled egg tacos are an easy camping breakfast and help give a little kick to your morning. They are always a big hit and are really easy to prepare ahead of time to alleviate work at the campsite. Before I leave I cook the chorizo with onions and scramble the eggs. I then put it in a container in the cooler until needed. This cuts down the preparation time at the campsite and allows you to just warm it in a pan over the camp stove.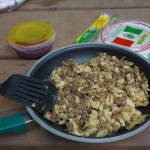 CHORIZO AND SCRAMBLED EGG TACOS
INGREDIENTS
1 lb Chorizo
½ onion, chopped
8 eggs
7 tablespoons of milk
10 flour tortillas
½ cup Shredded cheese
2/3 cup salsa or pico de gallo
Salt and pepper to taste
DIRECTIONS
Cook the chorizo with the onion in a pan. Drain any fat. Set the chorizo aside. In a bowl crack the 8 eggs, add 7 tablespoons of milk with salt and peper to taste. Mix the eggs and pour in to a pan to scramble. Once complete add the chorizo with onions to the pan and heat through. Warm the tortillas in a pan or in tin foil over the campfire. Top with cheese and salsa. Sliced avocados is also a great addition.