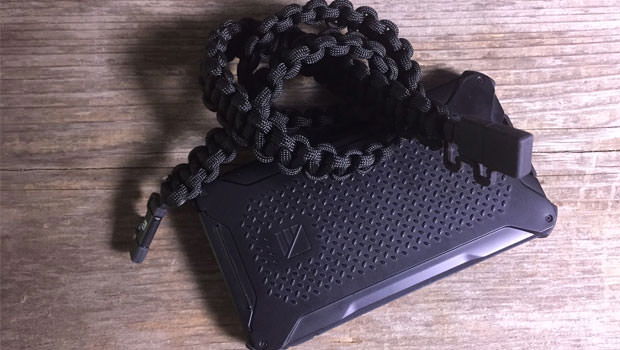 Dark Energy Poseidon – The Ultimate Outdoor Charger
Admit it: You've been standing in line at your local superstore, and have been tempted to buy one of those semi-disposable portable battery chargers for your next camping trip. Heck, maybe you thought to yourself "why not buy two – just in case." In that moment of consumer-blindness, you forgot to ask yourself the most important question: "will it work when I really need it?" The answer…maybe; for us that's just not good enough. Enter the Dark Energy Poseidon, a destruction tested portable charging device that's built for the outdoors. What is it? The evolution of portable technology isn't slowing down any time soon, and along with those battery-sucking devices comes a need to keep them powered up. The Dark Energy Poseidon is a waterproof, drop-proof 10,000mAh portable charger that's been designed and overbuilt to venture into the great outdoors. How much power is 10,000mAh? It's enough to charge your smartphone 3-6 times, a GoPro with 7-9 charges, it'll rev up your handheld GPS 3-5 times over, and put the power back into your Bluetooth speaker with 4-7 charges worth. To top things off, the Dark Energy Poseidon has an integrated campsite light with SOS function and comes complete with a paracord-wrapped micro USB cable that doubles in function. Keep in mind that the Dark Energy Poseidon is about the same size as an iPhone – making it easy to slip into your pocket or pack.
Why do I need it?
When you need power, you need power. Unlike the dime-a-dozen cheapie chargers, the
Dark Energy
Poseidon is built to take a licking. It's IPX68 rated and surpasses the military's drop-testing standards. Meaning – it's fully submersible. That's insane! A portable battery that you don't have to worry about when you accidentally leave it out in the rain - or go out for a canoe paddle. The drop test spec also means you don't have to 'baby' it. The Poseidon will stand up to whatever you throw at it…literally. When you're done abusing it, it's ready to charge up your devices to get you back on the trail faster.
Wrap it up.
You might've heard the expression – only rich people can afford cheap gear. It's true. Cheap gear needs to be replaced more often. We've learned over the years that it's better to buy once – especially if it's a piece of gear that you need to rely on. The Dark Energy Poseidon has quickly become a go-to piece in our kits. Not only for camping, but day-to-day as well. If you're looking for rugged power in the palm of your hand – you've found it.
Check out the Dark Energy Poseidon : $99.99