One of our favorite activities when camping is to go for a nice long hike. We seek out campgrounds that have miles of well groomed trails for us to wander. There is nothing better than spending the morning taking in the beauty of the outdoors and getting some exercise too! If you're going to be out for an extended period of time, a good healthy snack is in order. Something with protein to keep you going. We have tried many different snacks from trail mix to a wide variety of granola bar recipes. There is one that I keep coming back to and that is this Apple-Cranberry Granola Bar recipe. It's seriously so good and easy to make!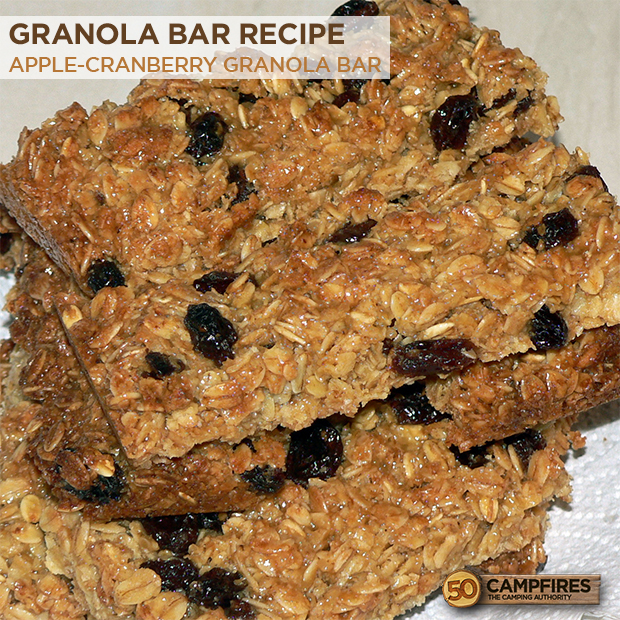 This is a perfect recipe to make ahead of time. You can just grab and go when you're ready to hit the trail. Wwe've found you want to pack the granola as tight as possible so the bars stay together when they get cut. It makes a pretty large batch but storing can be easy. Just lay wax paper over each row so the bars don't stick together. We have made many different granola bar recipes over the years, but are so glad we found this one from canadianliving.com. What makes this recipe so interesting is the walnut butter. We just love the taste, you can either buy it from a store or you can make this recipe for maple walnut butter that we found on Canadian Living. It's easy to make, but does require a time commitment.
Although the granola bar recipe is easy to prepare, it does come with a bit of an odd shopping list, some of these items may not be found at your regular grocery store. We'd opt for trying a health orientated grocery or healthy living store. We have always loved the combination of apple and cranberry and just can't get enough of these nutty apple-cranberry granola bars!
Delicious Apple-Cranberry Granola Bar Recipe For Hiking
Ingredients
2 cups large-flake rolled oats
¾ cup diced dried apples
⅔ cup dried cranberries
⅔ cup roasted pumpkin seeds
¾ cup chopped toasted walnuts
¼ cup vegetable oil
½ cup corn syrup
⅓ cup honey
½ cup Walnut Butter
Instructions
In a medium saucepan, combine walnut butter, honey, corn syrup and oil; heat over medium heat, stirring often, until melted and smooth, about 4 minutes.
In large bowl, combine rolled oats, dried apple, walnuts, dried cranberries and roasted pumpkins seeds. Pour syrup mixture over top and stir to coat evenly.
Scrape into parchment paper–lined 9 x 13 cake pan, pressing mixture firmly with greased spatula.
Bake at 325°F until golden brown, about 25 minutes. Let cool completely on rack. Cut into bars.