Camping isn't quite camping without cowboy-worthy biscuits and gravy, and this hearty recipe is super easy to rustle up even for a greenhorn. Prep these flakey-layered buttermilk biscuits at home in advance and freeze them until you bake them campside with the gravy.
Makes 8 servings.
Equipment:
Ingredients:
Biscuits
2 cups all-purpose flour
4 tsps. baking powder
¼ tsp. baking soda
1 tsp. salt
1 tsp. sugar
2 tbsps. unsalted butter
2 tbsps. vegetable shortening
1 cup buttermilk
Gravy
½ pound breakfast sausage
1 tbsp. butter
2 tbsps. flour
8 oz. whole milk or half-and-half
Pepper
Baking Tip:
To help prevent burning the bottom of the biscuits while baking, hang the Dutch oven from a tripod about 2 feet above the campfire instead of placing it on a grill grate. This keeps the heat from the fire more uniform.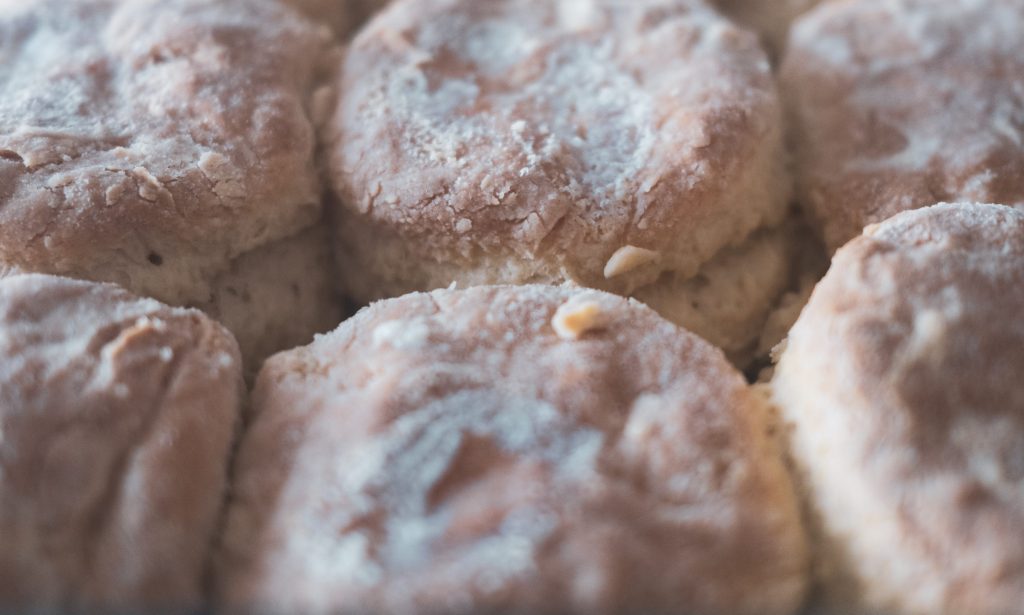 Steps at home:
Biscuits
In a mixing bowl, combine flour, baking powder, baking soda, salt, and sugar. Add butter and vegetable shortening and mix with a fork. Add the buttermilk and mix with a rubber spatula or wooden spoon until dough forms.
Place dough on a lightly floured surface. Roll the dough into 1-inch thickness. Fold the dough over itself; roll and fold dough 5 more times into 1-inch thickness. Cut dough into 2-inch biscuits.
Store in freezer-safe plastic containers lined with parchment paper, leaving space between biscuits. If stacking biscuits in container, place parchment paper between layers. Freeze. Transport frozen dough to campsite in a cooler.
Steps at campsite:
Biscuits
Place thawed biscuits in buttered or parchment-lined Dutch oven and cover with lid. Place Dutch oven on grill grate or hang from tripod and bake for 10 minutes. Carefully rotate Dutch oven 180 degrees to ensure even cooking and bake for 10 more minutes.
Melt 1 tsp. butter in a saucepan. Pour butter over the top of the biscuits and bake for 1-2 more minutes. Remove the Dutch from the fire.
Transfer biscuits to a plate.
Gravy
Clean Dutch oven and place on grill grate. Add the sausage to Dutch oven and cook thoroughly, about 6 minutes. When the sausage is cooked, push to one side of the Dutch oven. Melt butter and add flour. Stir for about 2 minutes.
Add milk or half-and-half. Continue stirring and cooking until the mixture reaches the thickness of gravy, about 3 minutes. Add pepper to taste.
Cut biscuits in half and pour gravy on top. Serve.