"Rosé is a perfect match for cheesecake, but ours is not the usual variety. We use 100% Cabernet Sauvignon grapes that produce a beautiful ruby-colored, semi-dry rosé with notes of watermelon, strawberry, and rhubarb. It's exquisite on its own and elevates cheesecake to something extraordinary. Our lightly sweet, aromatic Muscat Canelli also pairs well with a smooth and creamy cheesecake." – Barrett Family Wines.
I've always been a sucker for cheesecake (but who isn't, right?), so when I found a dutch oven cheesecake recipe that I could make while camping, I had to try it. Right away. We were not disappointed.
I have learned to really love my dutch oven. You can make everything from breakfast to desserts in it! This dutch oven cheesecake recipe, that we adapted to make a little easier, came from scoutingmagazine.org. This recipe has proven to be pretty simple and has turned out well every time I have attempted it. My husband, who usually is not much of a sweets person, highly enjoyed it, which is always a win!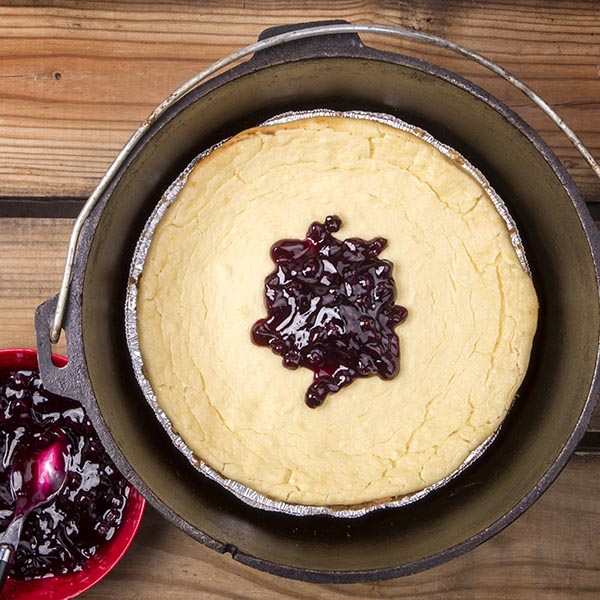 Dutch Oven Cheesecake Recipe
This is a great recipe that we adapted from http://scoutingmagazine.org. Using the premade graham cracker crusts in the aluminum pie plates makes preparation easy and clean up even easier.
Serves:
2 large cheese cakes
Ingredients
Crust:
2 Premade honey graham cracker crusts in their own aluminum pie tins
Cheesecake:
5 packages (8 oz.) cream cheese, softened
1 cup sugar
3 tablespoons flour
1 tablespoon vanilla
1 cup sour cream
4 eggs
Instructions
Start with two 12-inch Dutch ovens heated to about 325 degrees.
Place the graham cracker crusts in their tins into the ovens and warm for a few minutes
In a large separate bowl mix cream cheese, sugar, flour, and vanilla. It works best just to dive in and mix this with your clean, bare hands until well softened.
Then add sour cream. Mix well with a stiff whisk or spoon.
Next add eggs, one at a time, mixing until just blended.
Pour evenly into crusts. Smooth into place with the bottom of a large spoon.
Place lids back on Dutch ovens and bake for about 50 minutes, then begin to check for doneness about every 10 minutes. You will know when it is close to done if the center of it is almost set.
When done, set aside with lids off Dutch ovens to cool to room temperature.
Then remove aluminum tins from Dutch ovens, cut, add toppings and serve.
If you have never checked out the recipes on Scouting Magazine, you should. They have some great outdoor cooking recipes.
See them here.