The subtle oak and soft tannins of our Barrett Family Wines Merlot will help cut through the richness of the potato, bacon, and cheese in this dish. If you prefer a white wine, the balanced acidity of our Chardonnay is also an excellent pairing. – Barrett Family Wines
Cooking is my thing. I love making everything from appetizers to entrees and what I have found is that if you can compliment an entree with a great side dish people will enjoy the meal even more. These dutch oven cheesy potatoes are just that, a killer side dish to any meal.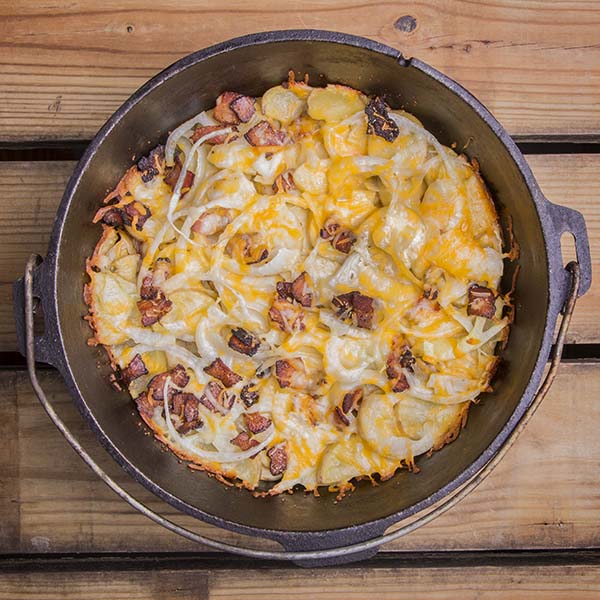 They are filled with everything not so healthy for you, but taste oh so good. So when you are in the mood to live a little, definitely try these out. They are simple to make and are fun to make while camping. Even if you are just making hot dogs over the fire the dutch oven cheesy potatoes will kick your whole meal up a notch.
I like to do some of the prep work at home to make it super simple at the campsite. I always cook and crumble the bacon as well as slicing my potatoes and onions before I head out camping. We were making a recipe similar to this, but after finding this one on One Sweet Appetite there is no way we can go back. You can make this recipe as big or as small as your dutch oven can handle. We have made this several times now and enjoy it that much more every time we sink our teeth in.
By the way –
And here's the best way to clean it.
Dutch Oven Cheesy Potatoes
We used Yukon Gold Potatoes for this dish. They are an excellent choice. Also, instead of just leaving the bacon drippings in the bottom of the Dutch oven after frying the bacon, we poured it into a dish, then spooned it on to each layer of the potatoes. Mmmmm! Mmmmm!
Ingredients
8 Potatoes
1 lb. thick sliced bacon, cooked and crumbled
2 cups shredded cheese
1 cup onions, sliced
salt and pepper to taste
Instructions
Start by slicing your potatoes, thin. Slice the onion in to rings. Set aside
Cut strips of bacon to 1-inch pieces. In the meantime, heat up the Dutch oven on the campfire, grill or stove.
Fry the bacon crisp, and then spoon it out. Leave the grease in the bottom of the pan.
Start to layer the potatoes, then sliced onions, and finally bacon and cheese. Repeat layers.
Cover the dutch oven and cook for at least 45 minutes at 375 degrees, or until the potatoes are soft.
Jesseca with One Sweet Appetite! is the author, creator, photographer, baker, and cook. She makes some seriously amazing recipes, with some making for easy camping recipes.
Check out her stuff here
.