When I think of summer, I think of cold beer, camping, warm sun, and bbq chicken sandwiches. There is something about the summer that makes barbecued food taste so much better. Maybe it is the fact that you can eat it outside while enjoying the warmth of a summer day. Either way, when summer hits, I have barbecue on the brain.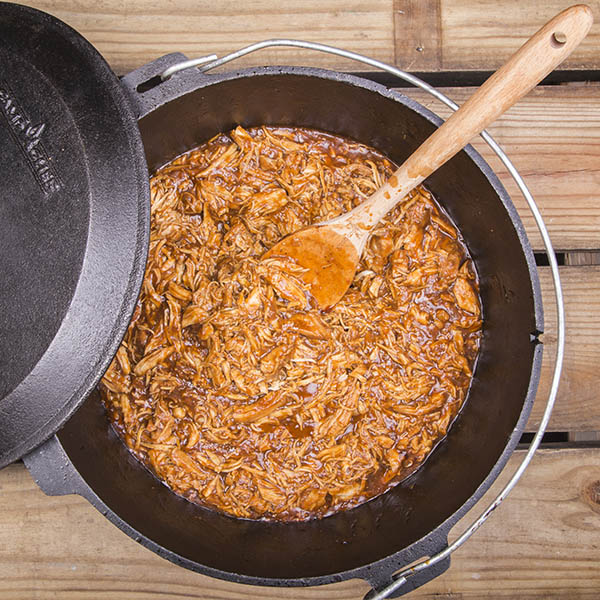 With all those thoughts of bbq dishes, naturally I want to make it while camping. There are certainly plenty of ways to make barbecued food, but I have created a really scrumptious recipe for pulled bbq chicken sandwiches in the Dutch oven. I love to use my Dutch oven while camping because I get it going and forget about it while our meal is cooking.
It can be difficult if you are a beginner Dutch oven cook. Getting an even temperature is hard, but experimenting is key. For this recipe, I moved the coals around a bit, right away I had about eight on the bottom, once I covered to let the chicken cook I had about eight on the bottom and ten on top. After the chicken was done and I needed my sauce to boil, I added a few more coals to the bottom to heat it all up faster.
Usually I do some prep work at home to make life easier at the campsite and for this recipe I cut up my onion and minced the garlic before I left and just had it in a zipper top bag, ready to go. This bbq chicken sandwich recipe, that I found at adutchoven.blogspot.com is very easy and makes a great dish to go along with coleslaw or potatoes.
By the way –
Here's our favorite Dutch Oven.
And here's the best way to clean it.
Dutch Oven Pulled BBQ Chicken Sandwiches
The BBQ pulled chicken is really easy for this recipe. Just give it plenty of time to simmer at low heat and the chicken breasts will pull apart easily. Watch the salt, especially if you're using chicken stock with sodium in it or working from a powdered base. Best to go light and work up to your taste by adding salt later as needed.
Recipe type:
Lunch, Dinner
Ingredients
4 skinless, boneless chicken breasts
1 tbsp olive oil
½ onion, chopped
2-3 garlic cloves, minced
1½ cups barbecue sauce
1 tsp hot sauce
½ cup chicken broth
1 tsp salt
2 tsp paprika
2 tsp black pepper
12 buns
Instructions
In a Dutch oven on the campfire or grill grate, heat olive.
Cook the onion and garlic for about five minutes or until quite soft.
Add the smoked paprika and stir. Add the chicken, pepper and salt.
Add the stock and bbq sauce and cover. Place a few coals on top, but keep the heat lower (around 300 degrees) and let it simmer for 60 minutes.
Once tender, remove the chicken and shred it with two forks.
During that time, add more coals underneath the Dutch oven and bring the BBQ sauce mixture to a boil. If you need to skim off fat, etc. from the top, do that. Let it boil down to about ½ of its volume.
Take the dutch oven off the coals, add the chicken back in and let it rest for 5 minutes. Spoon the bbq chicken mixture on to a bun and enjoy.
Elizabeth of A Dutch Oven, has a great blog about her adventures in cooking. She wanted a place to organize her thoughts and recipes, and share with others who may be interested. She does have some good stuff,
see it here
.