Whenever we go camping next to a lake or river we always do a little fishing. If we have a good day on the water, we have a great fish fry that night. It must be something about eating fish outdoors that makes it even better. Whether you caught it or brought it along, making fish while camping is a great dinner meal. One that I have been making lot lately is this dutch oven salmon bake. It is so easy to do in the dutch oven and the family loves the crusted salmon!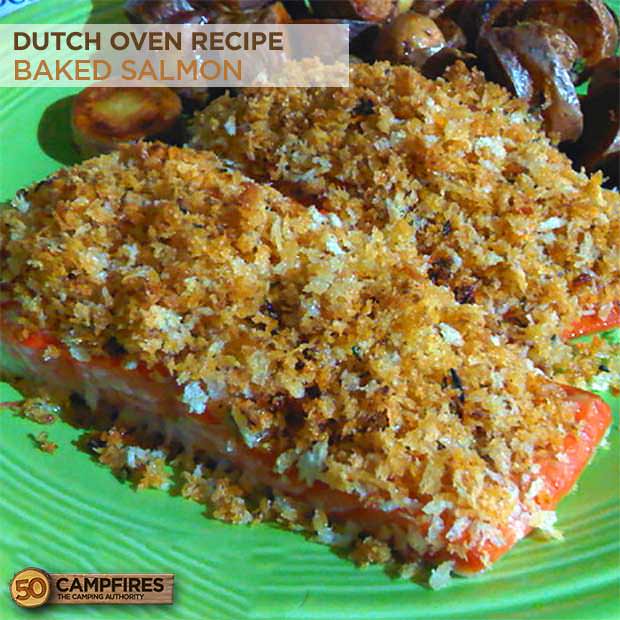 Easy meals while camping are glorious. Not much prep work, cooking time or clean up is a real win in my book. This dutch oven salmon is just that. Only 3 ingredients, it takes less than a half hour and there is barely any clean up. You can also spice this recipe up a bit by adding a little lemon pepper, lemon juice or dill weed. You do want to get the dutch oven pretty hot for this recipe, probably using around 10 coals on the bottom and 20-22 on the top.
I have always liked fish, but seem to enjoy it even more when it has breading or crusted with breadcrumbs, crackers etc. One tip I would give for the salmon is to get a nice sized fillet and keep the skin on one side, you really should cook it on that side so the fish doesn't stick to the bottom of the dutch oven and flake off. I have now made this a few times for the family and it has been a successful camping meal every time!

Dutch Oven Salmon Bake
Ingredients
4 salmon fillets or a 1 pound piece of salmon, skin on one side
3 tbsp dijon mustard
16 crackers, crushed
Instructions
Coat the dutch oven with a non-stick cooking spray. Place salmon fillet, skin side down in prepared dutch oven.
Spread mustard evenly over fish. Sprinkle with crushed cracker crumbs.
Add a little dill weed or lemon pepper if so desired.
Bake at 400 degrees for 15-20 minutes.
More great fish recipes
Eisenhower's Crusted Trout Recipe With Cornmeal and Fried Bacon Fat
Easy Foil Packet Fish Recipe: Tilapia & Vegetables