Dessert. One of life's greatest indulgences. If you're like me you like a little sweet after a meal (or whenever the mood strikes you). Desserts are a necessary part of camping, who doesn't have s'mores when there is a campfire? But it is nice to switch up the dessert a bit on a multiple night camping trip. My family has really grown to love this dutch oven seven layer brownie. Sounds delicious, right? They are.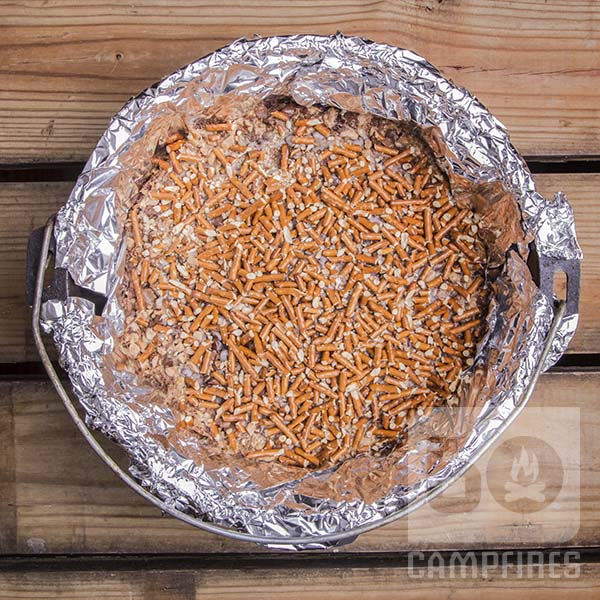 Ease of cooking is always a priority when you are cooking outdoors. Not many people are cooking 4 course dinner meals with 40 ingredients at the campsite. Another priority for me is prep time. I love cooking but when you are preparing a meal outdoors, in the elements, when you are supposed to be relaxing it then becomes a chore. I always have a meal plan ready for camping and try to get as many things prepared ahead of time as I possibly can. The seven layer brownie works well for this, as you can get all of your batter ready at home and keep it chilled in your cooler.
When we make this seven layer brownies I use about 24 charcoal briquettes. I like to do 9 beneath the Dutch oven and 15 on top of the lid.
We are a family full of sweet tooth's so we have gotten a lot of use out of this seven layer brownie. I originally found it on Dutch Oven Net, they have some great recipes for dutch oven lovers, click here to check some out.
Dutch Oven Seven Layer Brownie
Just look at these individual ingredients? How could this be anything but scrumptious?
Ingredients
1 box of your favorite Supreme Brownie Mix
¼ cup warm water
½ cup melted butter
1 egg
1 tsp vanilla
1 cup coconut flakes, optional
1 cup toffee bits
1 cup semisweet chocolate chips
1 cup chopped pecans, optional
1 cup chopped (not crumbled) pretzels
½ cup + 2 tbsp sweetened condensed milk
Instructions
In a large bowl stir in brownie mix, eggs, vanilla, water, and butter until well blended. Press into well greased Dutch oven. You can also use tin foil to cover dutch oven and cover with cooking spray. Cover the dutch oven and bake for 14 minutes at 350°.
Sprinkle, coconut, toffee bits, chocolate chip bits and pecans (in that order) over the partially cooked brownies. Drizzle evenly with sweetened condensed milk to within one inch of sides. Sprinkle the top with the chopped pretzels.
Cover and continue to bake for 25 – 35 minutes. Insert toothpick one inch from side of pan. Brownie is done when toothpick comes out almost clean. Do not over bake.
Remove from Dutch oven and allow the brownie to cool for at least 90 minutes.
Images courtesy of: halfbakedharvest.com