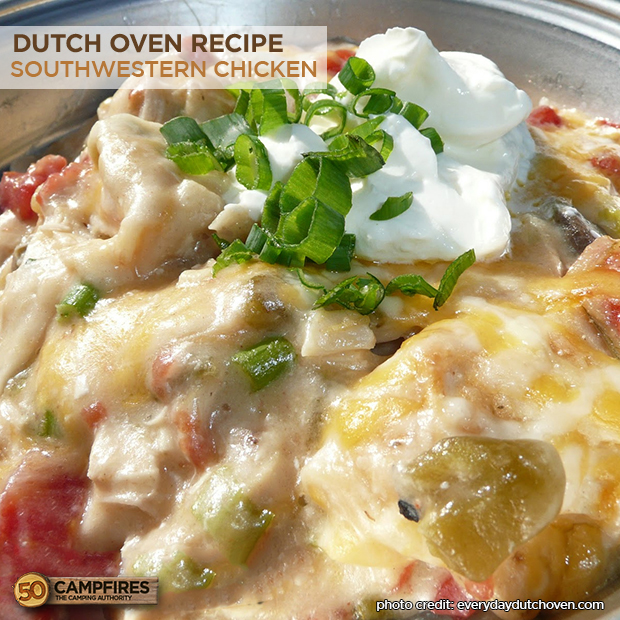 It is nice to have easy to make meals when you are out camping. Lets face it just makes the whole experience better. You don't want to work on Monday and have to say I went camping but ended up just getting meals prepared all weekend instead of relaxing. That is one reason why I love to use the dutch oven, the other is the tasty meals it can make. For example this dutch oven southwestern chicken is a hearty casserole with a great flavor. The family really enjoyed it and putting it together was super simple.
This is the type of recipe that you can do some preparation at home. I always cook and cut up the chicken, and chop the green onion. But the real beauty in this recipe is that it mostly consists of just putting cans in. That works out perfectly for camping. You can just dump it in the dutch oven, stir and let it cook.
When I first found this recipe from Everyday Dutch Oven, I was excited to try it and I am so glad I did! There are a few variations on it and I found that the best way to cook it was with about 8 coals on the bottom and 16-18 on the top. If it is the dead of summer and you're camping in hot, sticky weather this dutch oven southwestern chicken may not be a go to meal, but if you're camping on any weekend where the weather will be pleasant or even cool this southwestern chicken casserole is the way to go!
By the way –
Here's our favorite Dutch Oven.
And here's the best way to clean it.
Dutch Oven Southwestern Chicken
Ingredients
2½ cups chicken, cooked and chopped
2 cups shredded Cheddar cheese, divided
1 10¾ oz. can cream of mushroom soup
1 10¾ oz. can cream of celery soup
1 10 oz. can RoTel Diced Tomatoes and Green Chilies, undrained
1 4 oz. can diced green chilies
¾ cup sliced green onions
10 flour tortillas (8 inch), cut into small pieces
1 tbsp sliced green onions for garnish
Instructions
Lightly oil or spray dutch oven. You can also line with tin foil and coat with a non-stick spray. Combine chicken, 1 cup cheese, both soups, undrained tomatoes, green chilies and the ¾ cup green onions in large bowl.
Mix tortilla wedges into chicken mixture. Spoon mixture into prepared dutch oven.
Bake at 350 degrees for 30 minutes or until bubbling and hot. Top with remaining 1 cup cheese, bake for 5 minutes or until cheese has melted.
Let sit for 10-15 minutes before serving. Garnish with 1 tablespoon green onions.
Everyday Dutch Oven, has some really great dutch oven recipes, they truly share their passion for dutch oven cooking with the world.
Click here
for other great recipes.