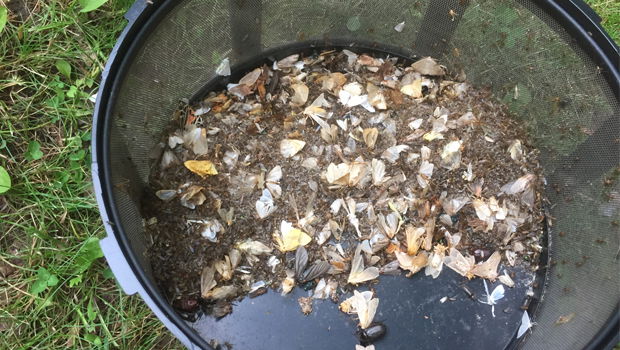 The DynaTrap DT2000XLP captured all of these mosquitos…ALIVE!
I come home with some pretty "interesting" stuff as part of my job.
When my wife sees me unpacking a new box, she's often skeptical of whatever's inside. It's not that it isn't innovative or useful, but rather the knowledge that it'll likely become another "thing" on my gear shelf. I'd like to start off by telling you, that after spending a week with the
DynaTrap DT2000XLP Insect Trap
– it's become a piece of gear that will never collect dust – and to be honest, I'm not sure how we lived without. We have a 2-acre piece of property in Northern Wisconsin, an area infamous for its mosquitos – and the perfect setting to truly test the capabilities of the DynaTrap. The property itself is a mixture of hardwoods and low-level wetland, all situated on the shores of a small lake. In short – it has all the components to be a mosquito breeding ground.
DynaTrap DT2000XLP
– could it rid my bedroom of midnight bloodsuckers? Granted, this isn't the true use of the DynaTrap, but I was amazed that after only an hour in the room, with the lights off – the DynaTrap got rid of my problem.
The next morning, I followed the instructions and installed the DynaTrap on a shepherd's hook near the side of the cabin.
I placed the unit roughly 40 feet from the back deck, where my family was planning on spending most of our outdoor meals and family time - and turned the unit on. For the next 7 days, I let the unit run day and night straight. Aside from the occasional investigation from my seven-year-old son, we left the DynaTrap alone to do its thing.
over an inch deep.
via GIPHY
The first question out of my wife's mouth: "Were there any butterflies in there?" There weren't. After the unit was operating for 6 days, we invited a group of people out to the cabin for a birthday party. With more than a dozen people outside – at sunset – none wearing any insect repellent – everyone commented on being bug bite free. As I mentioned early on, the DynaTrap DT2000XLP is a product that I don't think I can do without. While I used the largest of their versions, which covers up to 1 acre – DynaTrap also makes smaller versions that I'm anxious to try on multi-day campouts. I think it'd be brilliant to have one attached at an electrical site, and see if it'd clear the area of the unwanted guests.
Click here to check out the DynaTrap DT2000XP