Make an easy camping foil pack recipe that the whole family will love! All it takes is a little bit of planning and you can provide great camping meals for an entire trip. This is an easy recipe to make delicious foil pack philly cheesesteak sandwiches.
Some items in this recipes can be prepared ahead of time at home. Cut the steak in the strips and put in a freezer bag. Cut the onions and peppers and put in a separate freezer bag.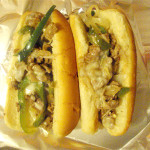 FOIL PACK PHILLY CHEESESTEAK SANDWICHES
Prep time: 15 minutes
Cook time: 25 minutes
Serves: 4
INGREDIENTS:
1.5 lb sirloin steak, cut into 1/2″ strips
1 large onion, sliced in to strips
1 large green pepper, sliced into strips
4 slices provolone cheese
Salt and pepper to taste
4 hoagie buns
Cooking spray
INSTRUCTIONS:
Make four large double layer squares of foil. Spray with non-stick cooking spray. Place onions and peppers on the foil. Season with salt and pepper to taste. Layer steak on top of onions and peppers. Season with salt and pepper. Add a slice of cheese to each packet.
Wrap and seal the aluminum foil. Leave room in the packet to allow air to flow through as it cooks. Cook on hot coals or a covered grill for 15 – 20 minutes. Flip about half-way through. Open with caution – there will be plenty of steam and ooey, gooey cheese. Slide the steak, pepper and cheese mixture onto the hoagie roll.