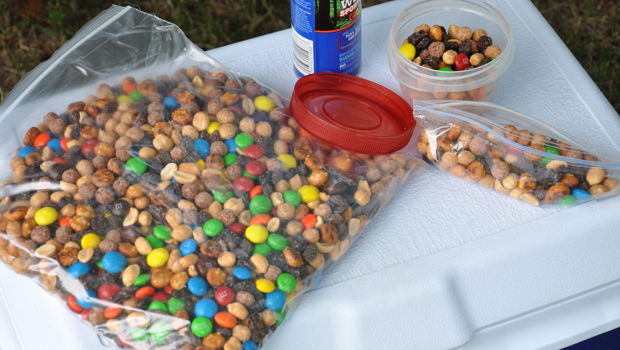 Easy Camping Trail Mix – Happy Trails!
Trail mix is a combination of dried fruit, grains, nuts, and often chocolate, developed as a convenient snack food to be taken along on hikes.
Trail mix can be made as unique and as individualized as the people and trails we trek upon! I like my trail mix sweet and salty and tasting of peanuts. It appeals to young and old alike. This easy camping trail mix is considered the ideal snack food for hikes, because it is lightweight, easy to store, and nutritious. It provides a quick energy boost from the carbohydrates in the dried fruit, and sustained energy from fats in nuts.
A large batch can feed an army! Or, smaller portions can be prepared to suite your needs. You'll go nuts for this recipe!
HAPPY TRAILS CAMPING TRAIL MIX
INGREDIENTS:
4 cups Reese's Puffs Whole Grain Cereal
2 cups raisins
2 cups peanuts (I like dry roasted peanuts made with sea salt)
2 cups pretzel balls
1 14 oz package of milk chocolate M&M's
1 14 oz package peanut butter M&M's or Reese's Pieces
DIRECTIONS:
Mix ingredients in a large mixing bowl. Store trail mix in an airtight container or Ziploc storage bags. You can fill mason jars or treat bags and tie off with ribbons for gift giving to the campers in your life!
Customize your own trail mix recipe to include ingredients that appeal to you. Select from a variety of nuts, dried fruits, bite size snacks and candies. It just takes a little imagination and experimentation. Prepare for your next adventure, for your lil' campers' lunchbox, or for a high-energy snack to savor anytime.