I often get asked the question, "What type of knives are you evaluating now?" It's a fair question because I'm usually putting half-a-dozen or more knives through their paces. Some are sent to me, but much to my wife's chagrin, I can't stop myself from making a purchase now and again — ok, more now than again. Yes, I'm classified by most as a "gun writer", but truth be told I've been a knife guy since I was in the single digits and I've got an addiction to sharp stuff.
No matter what type of knife I'm "testing", I use them for their intended purpose for an extended period of time to really see how they hold up. I'm fortunate to spend a lot of time on my friend's cattle ranch doing all kinds of chores and hunting year-round, or scouting for the next season. Some knives just don't hold up, but others do so well that it's hard to not take them with me when I head out.
For the past six months, I've been using two very different ESEE knives for all manner of tasks. As hard as I try, I can't find anything bad to say about them. In fact, when I can't locate one of them, I don't have to look further than my son's gear. He knows good kit when he sees it.
PR4
The workhorse of the two is the Camp-Lore PR4 designed by Patrick Rollins. The PR4 has 4″ blade that is made of 1/8″ 1095 HC Steel. The 4 ¾" micarta handle just happens to fit my hand like it was the template for it. The spine of the blade is designed at 90 degrees for use on striking a Ferro rod. The sheath, I'm glad to say, is made of high-quality leather. I use a lot of Kydex sheaths, but there is something about a well-made leather sheath for silent carry. The sheath also develops its own patina over time, making for a unique look.

I've used the PR4 for a wide range of ranch chores; some as simple as cutting bailing twine from hay bails or cutting a string of Mylar balloons out of the sage. I've been trying to figure out why the ranch has become the landing zone for birthday and graduation balloons. Sure, they look cool, but if a cow ingests the string or balloon while grazing, it can be deadly.
As for "meatier" tasks, the knife was used to tip ears during branding season, and also to prepare dinner one night – just to see how well it sliced (prior to use for the ranch cores). It made short work of the vegetables and cut the steaks with ease. Over the past six months, the edge has held up surprisingly well. I recently did a quick touch up on the blade, simply because I am a little obsessive about keeping my knives as sharp as possible — I'm that guy — the one everyone brings their knives to sharpen.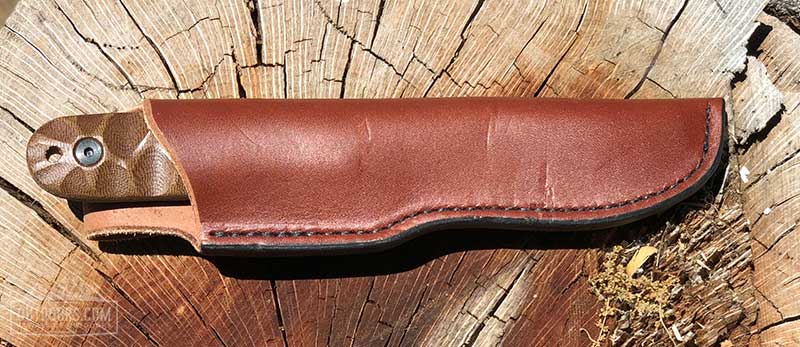 If you are looking for a great all-around camp, chore and even game-processing knife, check out the Camp-Lore PR4.
CR2.5
The Camp-Lore CR2.5 is tiny in comparison to the PR4, but don't let the size fool you – good things come in small packages! Designed by Cody Rowen of Rowen Manufacturing, this little bird and trout style knife may be the smallest in the ESEE line, with an overall length of 6-¼". The blade, as the name says, is a 2 ½" drop-point, flat-grind design that is stonewashed, making for a really cool looking black blade. The micarta handle feels good in the hand, and like the PR4, it comes wrapped in a nice leather sheath. I've been carrying it in my Hill People chest rig since it fits so nicely in there.

Due to its size and the workhorse ability of the PR4, the CR2.5 didn't get as much use for my daily chores. Like the PR4, I used it in the kitchen quite a bit for cutting vegetables and various meats. It worked especially great to cut up chicken breast for stir-fry. Sadly, I didn't fish much and my plan to use it to process spring turkey didn't work out. The die-off on birds was so bad out here in California, that I saw no Toms and I wasn't hungry enough to shoot a Jake. If I take a fall bird I'll definitely give it a go. I also plan to try it out on some big game this hunting season.

There is a reason ESEE knives are used all over the world — they make a great product that you can bet your life on. No matter what type of mission you are on, I can guarantee they make a knife to fit the role for you and it will last for years to come. Check them all out at https://eseeknives.com/. And if your better half yells at you for heating up the credit card, don't blame me!