Enter To WIN a FiAir!
Feed your fire this Holiday Season with a chance to win a FiAir! 50 Campfires will be giving away three of these handy blowers to keep your Holidays stoked.
a Rafflecopter giveaway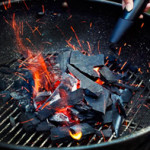 We all love the taste of food off a charcoal grill but hate waiting for it to heat and get ready for cooking. Some have switched to gas grills, sacrificing food taste for speed. Now all you have to do is make the switch to FiAir. It's a handy little blower that feeds fire quickly. It can get a charcoal grill ready in 8-12 minutes.
The FiAir is also perfect for camping. Even with great kindling and wood it can take a fire quite a while to truly get started. But with FiAir you can have a blazing campfire in 2 minutes.
Weighing just 5.6 ounces and only 9.2 inches long, FiAir is the first and only truly portable, compact, hand-held, battery-powered blower for feeding fires indoors and out. FiAir brings wood fires to full blaze in two minutes and charcoal to cooking temperatures in half the time. Its point and shoot operation enables users to generate continuous airflow and/or controlled, targeted bursts; a powerful motor and rugged construction allows users to kindle close and stoke from a safe distance without worrying about smoke, sparks or excessive heat.
Not only is FiAir great for use with your grill, fireplace, wood stove, chimney or fire pit, it is also the perfect take-along for camping, hiking, fishing and tailgating – it's small enough to fit easily into a pocket, glove box, backpack, cooking apron or tool belt.
MSRP is $29.99 and FiAir can be purchased via the company website, www.fiair.net, as well as Amazon.com.