Festival Camping Gear
Finally, festival season is here! Here's to good music, awesome friends, and cold drinks to battle the sun! But before you get started, make sure you have the right gear to make each and every one of your trips as memorable and comfortable as possible. Here are just a few of our favorite pieces of festival camping gear.
Festival Camping Gear:
Sierra Designs' Mobile Mummy
This sleeping bag is designed to move when you do, so you can sleep on your side, stomach or back without feeling constrained. You can even wear this bag like a garment around the campsite – sit up and use your hands to grab a drink or snack, then stow the foot box for a stroll around the grounds. The zipper-less armports have no hard closures to get in your way, and the ultra-light toggle-free hood will fit around your face perfectly. Available in DriDown and Synthetic versions.
Sierra Designs Flash 2
Lightweight yet luxurious, the Flash 2 proves a full size, full feature tent all while remaining lightweight, a perfect piece of festival camping gear! The newly-added retractable rainfly provides unhindered stargazing and unmatched ventilation. You can pitch this freestanding tent anywhere, and the hybrid double/single wall provides quick, dry set-up, even in the rain.
UCO X-120
Finally, an option for headache-free lighting so you can find your way around the campsite and festival grounds conveniently and safely. The X-120 offers a custom fit system and a simple light output dial, all while remaining lightweight and comfortable. The front lamp dial adjusts from 0-120 lumens, with lighting modes of flood, spot and red night vision.
Leschi Lantern + Flashlight
This collapsible lantern/flashlight duo is both compact and lightweight— the perfect lighting accessory to join your lineup of festival camping gear. It includes a patented shock cord mounting system that allows for the Leschi to mount to bars, trees, guy lines and more. Highly water resistant, its 110 lumens can project up to 400 feet and it only weighs 1.6 oz. Power all four lighting modes: high, medium, low and strobe with just one AA battery.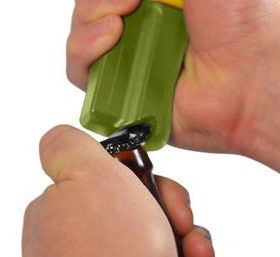 UCO Stormproof Torch and Bottle Opener
The UCO Stormproof Torch and Bottle Opener features a triple jet with adjustable flame height and a waterproof case. The bottle opener at the bottom will make opening a cold brew after a long day at the festival grounds so much easier. It includes a refillable butane lighter (butane not included).