The feature-length documentary Finding Michael, about Spencer Matthews' search for his brother's body on Everest, is now available to stream in the U.S. on Hulu.
The film, executive-produced by Bear Grylls, tells the true story of Michael Matthews, who in 1999 became the youngest Briton to climb Mount Everest. Tragically, shortly after he summited, Matthews disappeared on the mountain.
Spencer, who was 10 when his brother went missing, always struggled to accept his death. Like the family of many climbers who have been lost on Everest, they didn't have a body to mourn or say goodbye to.
That changed in 2017, when Michael's family were sent a photo of a body on the mountain, which could be that of their lost kin. It was this that inspired Spencer—who'd since become a reality TV star in his native England—to set the wheels in motion for a recovery mission and a documentary of the harrowing journey to climb, search and film above 26,000 feet in Everest's Death Zone.
"In a childish sense, I'd always wanted to find him, to bring him home," says Spencer. "I'd never understood it as a possibility until the communication around this photo. That's the first time I've ever heard of a body being recovered from Everest, or the possibility of it being real."
Weighing the risks
Spencer says one concern he had in conceiving the project was not putting other climbers at risk to find Michael.
"For us to undertake the project, we had to get comfortable with the level of risk for the search and recovery team, because risking more life to recover my dead brother is not something that we would ordinarily entertain," he says.
For that, he enlisted the help of Bear Grylls, who became executive producer on the film, to pull together the best climbing team possible. They recruited Nimsdai Purja, the world '14-peak' record holder, to lead a team of 10 for the mission.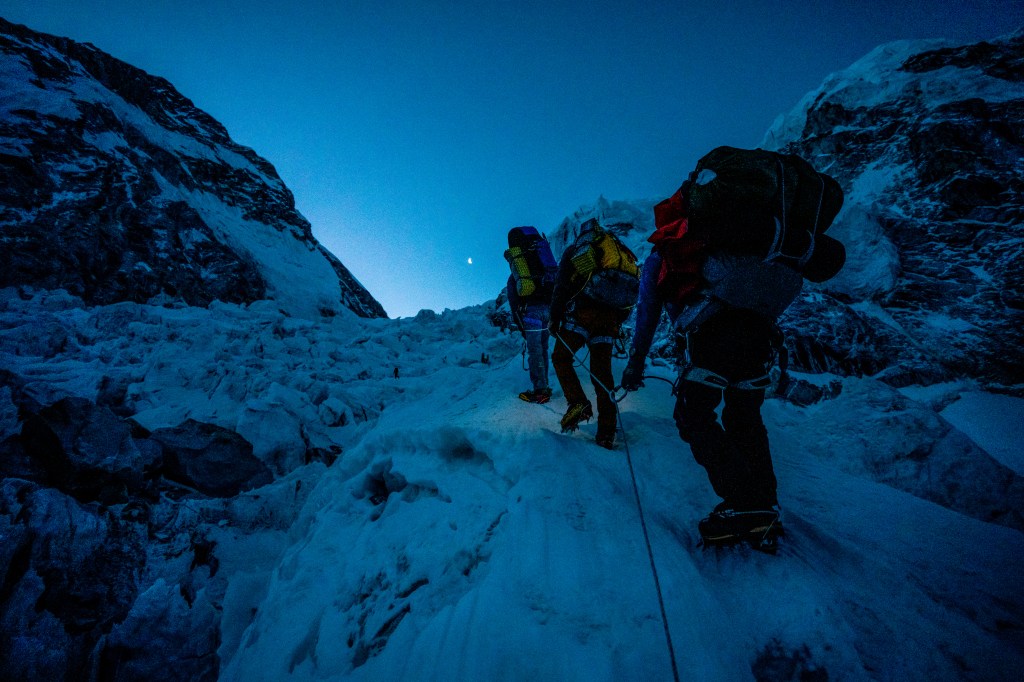 "If it wasn't for Nims Purja and his incredible team of super-human Sherpas, I'm not sure we would have taken that risk," says Spencer. "There are plenty of things on Everest that can kill you, even if you're an experienced climber."
Spencer traveled to Nepal with the team, and waited anxiously at base camp while the climbing team went up to search. Although no stranger to adventure himself, Spencer says he has never climbed Everest, for his family's sake.
"I wouldn't want to put my mother through the pain of worrying about losing another son in similar circumstances," he says. "It just seems like an unnecessary risk, particularly with a wife and three children of my own now," he says.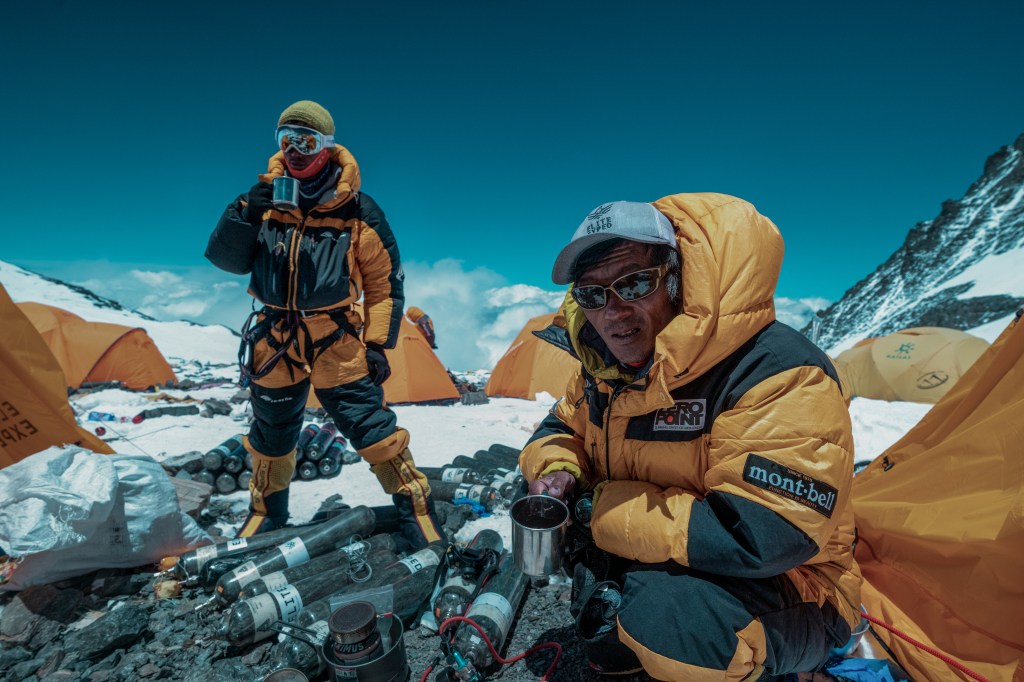 Calling Bear Grylls
Bear Grylls famously climbed Everest himself aged 23 in 1998—and had his youngest-Briton record broken by Matthews the following year. He remembers meeting the younger climber a few months before he left for Everest and encouraging him.
"I suppose I was still riding high on the fact that I'd managed to climb it, and all that belief that everything's going to be alright, and [it was a] 'go for it' sort of thing," he says. "Then when he tragically died up there, was lost to the mountain, it was a real sucker punch to the stomach. I just remember being so shaken at the time and it changed so much of how I approached the mountain afterwards and people who had aspirations on Everest."
Years later, Bear was giving a talk at a school when he met Spencer, after the boy put up his hand and asked Bear if he knew Mike.
"It was an incredibly powerful moment and I remember just hugging him, and always trying to be just a shadow of a friend to him in his life, as he grew up," says Bear. "There was always a part of me that wondered one day if I'd ever get that phone call with him saying, 'I want to try and find Mike—I want to try and find his body.'"
Assembling the team
Still, Bear had mixed emotions when the call came. Conscious of "not making one tragedy into a worse tragedy," he agreed to help recruit the best team in the world—not only the best climbing team, but also the production team, who could take on this high-risk expedition.
"Trying to assemble a team isn't always easy but that is our world," he says. "We're surrounded by incredibly talented camera teams and the right people came forward."
Bear says that while some amazing rescues have been done on Everest, there has never been a complex body location and recovery mission like this, especially at the extreme altitude of the search area, and that the dangers and risks of the mountain are still very real. Even though the technology, the equipment and the forecasting have gotten better since he climbed it, the mountain still claims many lives.
"It's still a big, dangerous mountain and we had to be super respectful of that in attempting this recovery of Michael's body," he says.
Filming in the Death Zone
Seeing what the search team went through—not only climbing into the Death Zone, but going off the summit lines and using drones to search—is a powerful part of the film. Viewers are left in awe of the scenery but also of the expedition team's incredible capabilities.
"To be able to spot the difference between bodies and rocks at that altitude is remarkable," says Spencer. "They are remarkably talented individuals."
Nims and the team used drones, which they had to time with the weather and the jet stream winds, not to mention the challenges of keeping batteries charged and reviewing the footage in such extreme conditions.
During filming, Spencer himself spent a month at Everest's base camp, which he describes as a very black-and-white place.
"You feel that you're living on the Moon or Mars, there is no life there outside of the human beings that are there. There are no animals, no greenery. You're on a glacier that is moving and you're very high up—you're just shy of the Kilimanjaro height. So it's like sitting on the summit [of Kilimanjaro] for 4.5 weeks. But we were there for a purpose and that drove us through it."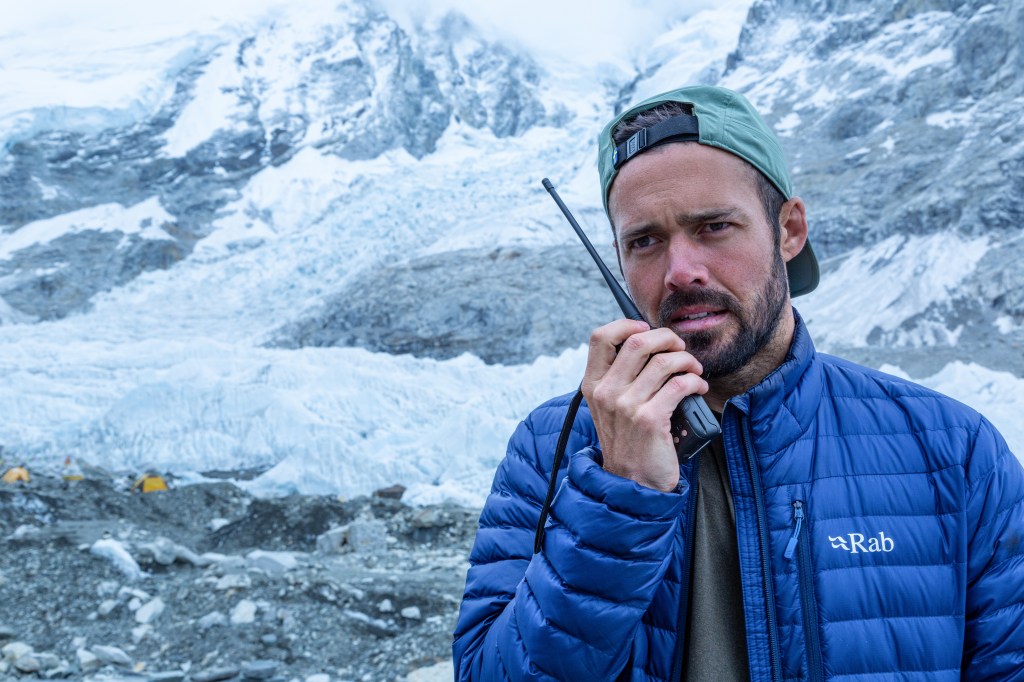 Bear, who opted not to join Spencer at Everest, also had a strong reaction to the footage he was sent.
"Trying to survive up there is hard, trying to climb up there is even harder, but trying to survive, climb and film, with drones and to dig and search and to be off the route in sometimes chest-deep snow—it's truly mind-blowing to watch," says Bear.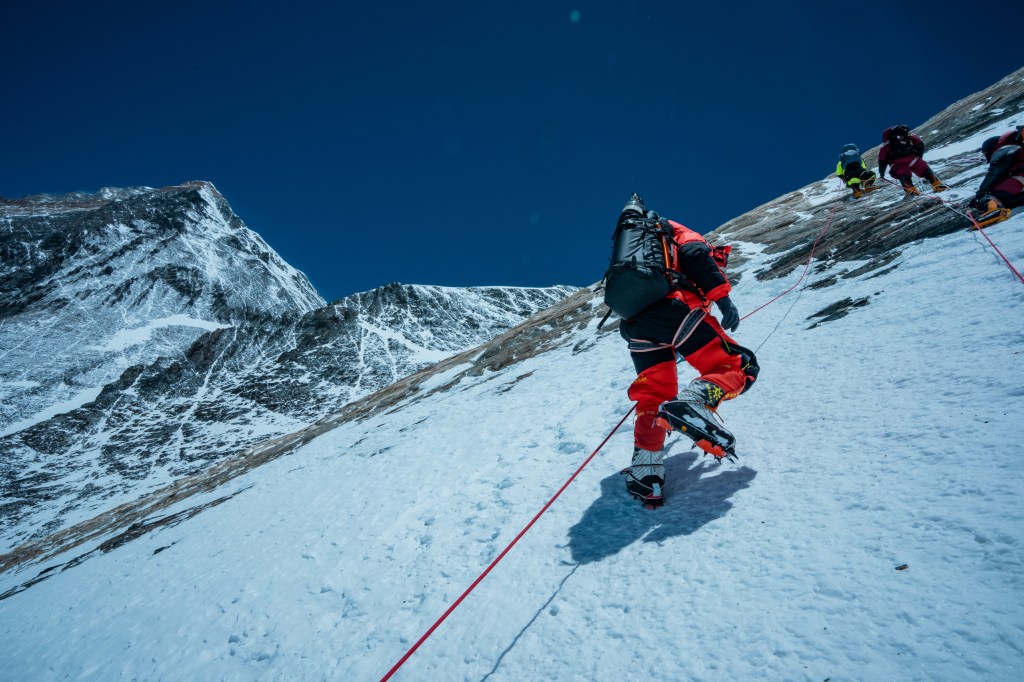 "To do search and recovery at that altitude, every step is a battle whoever you are," Bear says. "Even for Nims and his team, the best mountaineers in the world, you see the raw struggle of every step up there and you know they needed a meticulous plan."
Bear says he's been thrilled to see people's response to the film, which was released earlier this month in the UK on Disney+.
"This story of love and loss of family and the highest, biggest, baddest mountain in the world is always going to be powerful, so I'm really proud of this film," says Bear. The ending is really poignant. It's going to touch people. I think the world's never needed a story of connection and family and love more than right now. I hope this helps and inspires people in some way."
Finding Michael is available to stream now on Hulu in the U.S., on Disney+ in the UK, Hotstar in India and Star+ in Latin America.