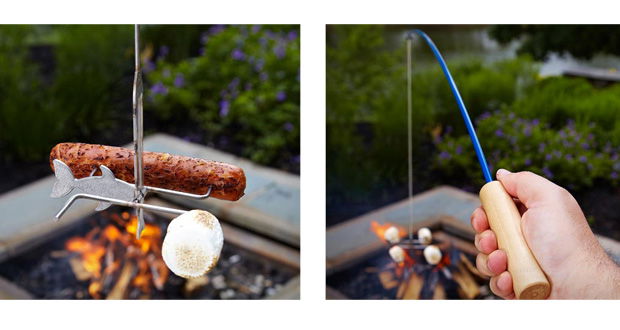 Firebuggz Fire Fishing Pole Review
To roast hot dogs or marshmallows, we cannot think of a cooler campfire roaster than the Firebuggz Fire Fishing Pole. Instead of the traditional wood sticks or simple metal wire roasters, this piece of campfire gear makes the experience more fun. Just as the website and reviews say, you really feel like you're holding a fishing pole. So turn some heads and try out this product at your next campfire. Appearance: The Firebuggz Fire Fishing Pole looks like a fishing rod. It's made of decent gauge metal that should withstand some very high heat. The actual fish cutout on the roaster section is a nice touch and the fun colors make it very appealing to kids.
Ease Of Use: While this is a little more complex than a stick roaster, we cannot imagine anyone would need instructions to operate this roaster. Right off the shelf you can take this to a campfire, put some dogs and smallows on the roaster and cook those babies over the fire. The flip function is nice and also super easy. A simple flick of the wrist will turn your roaster over for even cooking. Functionality: Not only is the Fire Fishing Pole easy to operate, it operates very smoothly. With a simple flick or "jig" of the wrist your food flips over to roast the other side. It's made of steel rods and a wooden handle, so it should last for many years. The only drawback is the smaller size of the roasting area. It can handle 4 marshmallows or two hot dogs. This is not an oversight since the Fire Fishing Poles are aimed at giving kids a fun way to roast over a campfire, but just know that you cannot cook 6 hot dogs at once. All things considered, it functions perfectly for its intended audience and the flip feature works perfectly to get evenly roasted food over the fire. The best part is that you can stand farther away from the campfire when roasting because of its long handle.
Value: These Firebuggz Fire Fishing Poles come in at $23, so if you want to add a little fun to your next family campfire, try one of these. Not only are they fun to hold and operate, but they function exceptionally well with great build quality. We're sure they'll be a great conversation starter with the neighbors.