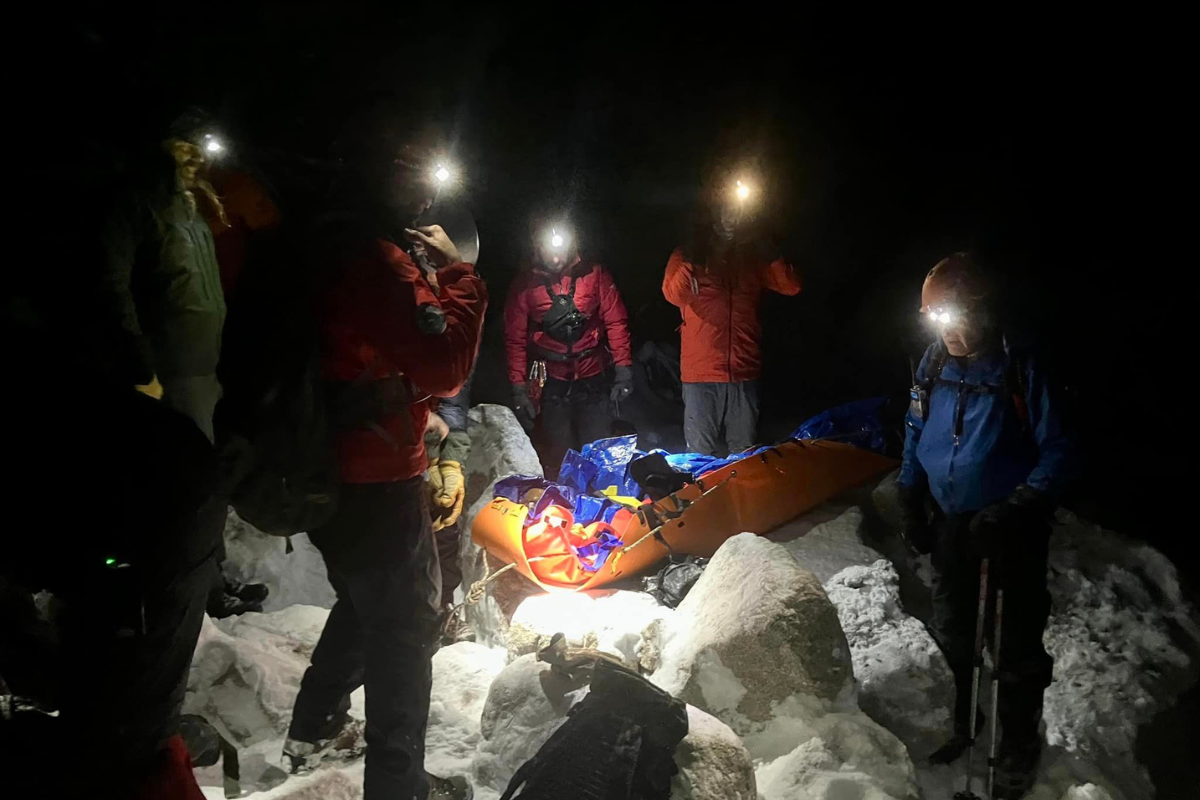 Footprints Help A Colorado Search and Rescue Team Locate a 'Very Hypothermic' Hiker in a Snowstorm
A search and rescue team in Colorado spent hours searching a mountain for an ill-prepared hiker who became lost in a snowstorm. Fortunately, crews managed to locate the hiker just in time to save their life.
According to Chaffee County Search and Rescue, a call went out around 7:00 last Wednesday night. A hiker attempting to summit a 13,000-foot mountain near the Collegiate Peaks needed help after bad weather moved in.
The hiker said they were out of water, had no food, and were wearing only a cotton hoodie as a snowstorm worsened. Rather than take the trail back down, the hiker attempted to use an avalanche chute in hopes of finding a road.
Officials say the hiker had a phone, but they could not share GPS information or pinpoint their location. Officials say they advised the hiker "to keep moving in a downward direction."
Twenty-five search and rescue members began scaling the mountain and checked various avalanche chutes for the hiker.
Search and Rescue Discovers Footprints
Just before 1:00 a.m., search crews found footprints in the snow, which they followed for the next hour.
"This team continued to follow the footprints until they came upon an unusual-looking rock at approximately 2:00 a.m.," wrote the Chaffee County Search and Rescue on Facebook. "Upon further investigation, it was determined it was not a rock but the subject sitting upright in a fetal position covered in snow. The subject was assessed and found to be alive but very hypothermic."
Rescuers warmed the hiker for the next three hours before lowering them down the steep area with ropes. By 6:15 a.m., the hiker felt well enough to walk the final stretch, where they were met by an ambulance at 7:00 a.m.
Preparing with the 10 Essentials
Chaffee County Search and Rescue wants to remind all hikers about the ten essential items to bring when heading into the backcountry. They include:
Hydration
Nutrition
Navigation
Emergency shelter
Extra layers
Illumination
Firestarter
First aid kit
Sun protection
Repair kit
Rescuers also say a GPS with two-way communication can be a lifesaver and highly recommend hikers use one.
Hundreds of people go missing every year in the backcountry and on public land like national parks. Thanks to search and rescue teams, the majority of them are found safe.