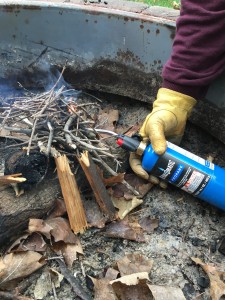 It's a fact of the outdoor life. When you're camping space is at a premium. You don't bring an entire mattress for sleeping, you bring an inflatable pad. You don't bring a hard sided cabin into the woods, you bring a tent.
When you find something that can double the functionality of a piece of gear you'll feel like a genius. That's why the Bernzomatic WT2301 is such a cool piece of gear that's too often overlooked.
Why is it so cool? After all, it's just a nozzle for a propane tank. However, that's the beauty of it. If you're bringing a camp stove or a propane powered lantern you're going to have the small propane tanks with you. This Bernzomatic self-igniting nozzle can be attached to any standard 16.4-ounce tank as well as the typical hand torch size of 14.1 ounces. The trigger start is a great feature so you don't have to bring a sparker or lighter with you. It gets frustrating trying to light a torch with matches!
There are many uses for a propane torch including: melting frayed rope ends, thawing, light soldering, or starting acampfire. The torch nozzle features an adjustable flame control knob, an easy start trigger and a solid stainless steel angled nozzle for years of durability. The Bernzomatic WT2301 is a versatile tool to keep in your camp box at all times because it's compact, reliable and interchangeable with small propane canisters.
Price: $14.97