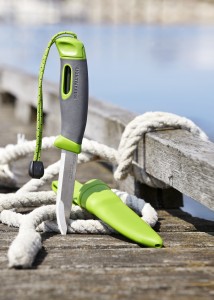 When we're looking for a camping knife we generally have things we'd like to see. One is low maintenance. It's nice to have a knife you can toss in the camp box and not worry about it. It needs to have a sheath so it's safe, and it's nice if the handle retains grip when wet. These qualities will cover in just about any situation in which you need a knife.
The Light My Fire Swedish FireKnife meets those criteria and more. The Sandvick 12C27 3 ¾-inch stainless steel blade holds an edge much longer than carbon steel and won't rust if you leave it on the picnic table in a rainstorm.
The plastic sheath works exceptionally well. There is a hole in the bottom for water drainage, and it pushes all the way in with a satisfying "pop," letting you know it's secured and ready for travel. The rubber handle is comfortable and safe to use rain or shine.
Last but not least, the knife has a magnesium alloy fire starter built into the handle that will last up to 3,000 strikes. If you wear one out, 50 Campfires want to interview you, because you probably live in the woods full time! And you can't beat the price. You can find the Light My Fire Swedish FireKnife on Amazon for less than $30.
Price: $39.99