2014 Gear Of The Year: Lightspeed Outdoors Compound 8 Tent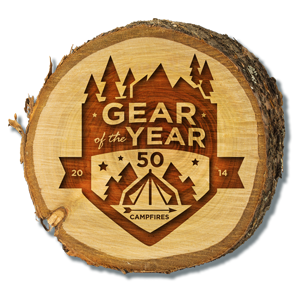 I'd like to pose a question. Let's say you drive up to a campsite and two tents are already set up. All you have to do is pick which one you want to sleep in for the weekend. One is a 4 person tent, and one is an 8 person tent. It's a no-brainer, right? You're picking the bigger tent every time. Which makes me wonder, if you're a car camper why would you buy the smaller tent?
Your answer probably involves difficulty to set up and price, both of which we feel are overcome by the Lightspeed Compound 8 Person Tent. We fell in love with this thing, and knew right away that it would be a strong contender for Gear of the Year. First off – it's big inside. The floor is 19' x 7.5' and that's not including the porch. It has three separate rooms, and is 7' 2" tall in the center. It has large end windows with vents that create ample air flow on a hot day.
Let's get back to those two objections for large tents. The first is difficulty to set up. The Lightspeed Compression Hub System is a literally a snap to setup. You pull the cord on the hub system, and the center room pops open. You then extend the four legs, build the side rooms, and that's about it. It can easily be setup by one person, which is amazing for a tent of this size. We've set up 8 person tents that need three people to get the job done. Now what about the price? Well, the Lightspeed Outdoors Compound 8 Tent is competitively priced, if not cheaper than many 8 person tents on the market. The ease of setup combined with the great price makes this tent Gear of the Year.
Other Gear of the Year Winners – Sleep Category