2014 Gear Of The Year: Mountain Khakis Camber 107 Pants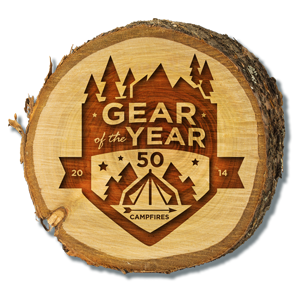 "I might just permanently live in these pants." That's the line one of our editors blurted out after wearing a pair of Mountain Khakis Camber 107 Pants for a few weeks. That's a pretty bold statement for a pair of pants, but the Camber 107 pants back it up.
We have worn and tested a ton of outdoor pants – everything from breathable hiking pants to ones that are meant to withstand a month in Antarctica, so we have some opinions on what makes a great pant. There is a big benefit to wearing pants that suit your outdoor activity. Sometimes you need flexibility for hiking and climbing, and other times you're looking for something rugged enough to work in the yard (sometimes both in the same day, right?)
If you're looking for all of these qualities, you need a pair of the Mountain Khakis Camber 107 pants. These pants are a stretch canvas so they're comfortable, but also durable with articulated knees, reinforced heel cuffs and a diamond-shaped action gusset (thank Chuck Norris for that). The quality of these pants is superior to most we have seen, but what really sets them apart is functionality. With 6 pockets, all of the things you need to get at can be stored right where you want them, including one meant specifically for your phone. Meant for a guy on the move, these pants just have an attitude about them and have a slightly slender build that fits like a glove. Oh, did we mention each pair comes with sweet looking Bison key chain bottle opener?
Other Gear of the Year Winners – Wear Category